I intended to make a peach galette for dessert Friday night. I really did. It would have been sweet and tangy, rustic, crusty, and glazed with homemade jam that my friend Linda had gifted me a couple of months back. I had the dough for the crust ready and everything. But then I went and inspected this week's peaches, and I found that while I hadn't been looking, they went from slightly too crunchy to moldy, saggy, and oozing, with hardly a moment of perfect ripeness in between.
Distraught, and lacking for backup fruit, I groped for a plan B. I couldn't abandon the idea of a pastry. I had made all this shortcrust dough, and it wouldn't due to throw it out, or to let it languish in the fridge until I could get more peaches. And so, casting my eyes around the kitchen, I settled on the only other produce I had in abundance at the time — onions.
Onions and peaches, when you think about it, are not actually all that different. Sure, they are in the absolute sense: one is a stone fruit while the other is a bulb; one has a fuzzy skin while the other's is papery; one makes my eyes water with pleasure when I bite into a perfect specimen, while the other … well … just makes my eyes water. But they are not actually all that different. Fundamentally. At their core. In their most important facet. Which is to say that they both make really excellent filling for a tart.
So. Change in plan. Instead of sweet, savory. Instead of rustic, formed. Instead of dessert, side dish. And I think to myself: you know, this isn't actually such a bad thing. Beef is tonight's main event, after all. And what goes better with beef than caramelized onions, and maybe some burnt cheese? French onion soup, anyone?
From the high shelf, I brought down my trusty Ikea-brand tart pan. I pulled out the slicing knife and the cheese grater. And with barely a pause to adjust my baking expectetions, I got to work. Bake, bake, bake. You know how it is. And in the end, given what came out of the oven, I defy you to notice that this caramelized onion tart was not the dish I had intended to make. It was postcard perfect, which was a little bit of a surprise given my recent history of ugly tarts. And it stole the show at dinner, drawing oohs and aahs away from the otherwise perfectly respectable braised short ribs that, on any other night, would have been a star.
I'm not bragging here, you understand. It simply turns out that this was one onion tart to remember.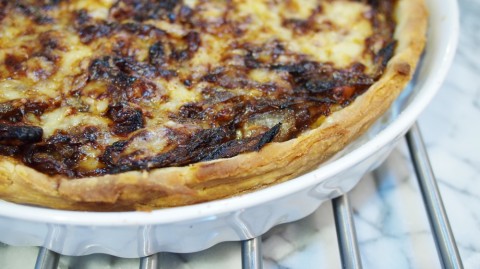 At any rate, here's how you do it. Like with most pastry, there are a lot of steps. But each one is easy. And if you spread them out a little bit, putting it all together is no problem at all.
Crust
1 1/4 cup Flour, plus some for sprinkling as you roll out the crust
1 stick Butter, chilled and cut into cubes
1 tbsp White Sugar
1 Egg + 1 Egg Yolk
1 tbsp Water
Salt
Filling
5 Medium Onions, sliced
1 cup Freshly Grated White Cheddar Cheese (Choose a good Cheddar. It matters.)
1/2 cup Raw Pecans
1 tbsp Balsamic Vinegar
Olive Oil (or Butter)
Dried Thyme
Salt
Pepper
The night before you're ready to make the tart, make the dough for the crust. To a food processor, add your flour, sugar, salt, and butter, and pulse until there are no more big chunks of butter, and the mixture looks a bit sandy. Add the eggs and pulse. Then, if needed, add as little water as you possibly can to make the mixture come together into a dry dough. You may need no water, or you may need the whole tablespoon. Either way, you want the dough to be at the stage where it is just barely holding together.
Once you've done this, form your dough into a disk, wrap in plastic wrap, and refrigerate overnight.
The next day, when you're ready to make the tart, preheat your oven to 400F. Roll out the shortcrust into a 13-inch circle, lay it into a tart pan, press it into the corners, and trim the excess dough with a paring knife. Pierce the bottom all over with a fork (to prevent air bubbles while baking), and refrigerate for at least 20 minutes (to allow the gluten in the flour to relax).
After 20 minutes, line your tart shell with foil or parchment, fill with pie weights (or dried beans, or my favorite, uncooked rice), blind bake for 10 minutes, and then set the partially baked shell aside.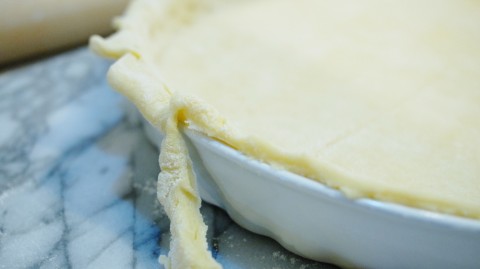 While the pastry is resting and blind baking, prepare the filling. Grate the cheddar and set it aside. Heat a heavy-bottomed pan with a little bit of olive oil over medium, and slice up the onions. Add the onions to the pan, add salt and pepper, and allow to cook for 40 minutes to an hour, stirring occasionally, until their moisture has evaporated and they begin to caramelize. About ten minutes into cooking the onions, add the balsamic vinegar and dried thyme, and continue to stir. Be patient. There is a lot of moisture in 5 good-sized onions, and most of it needs to evaporate before you can get caramelization.
Once you get some caramelization, add the pecans, stir, cook for about five more minutes, then remove from the heat and set aside.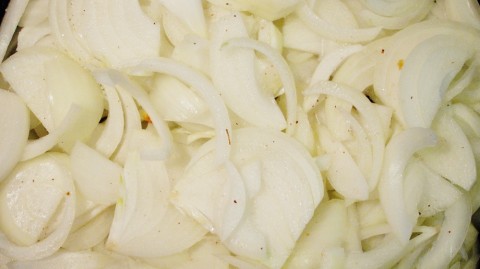 Once the filling is done, it is time to put the tart together. Sprinkle about half of the grated cheddar on the bottom of the pastry shell. Add the onion-pecan mixture, and smooth it out such that it evenly fills the tart. Sprinkle the rest of the cheddar on top. And bake in your 400F oven for 30-40 minutes — until the crust has browned and the cheese on top is just starting to burn.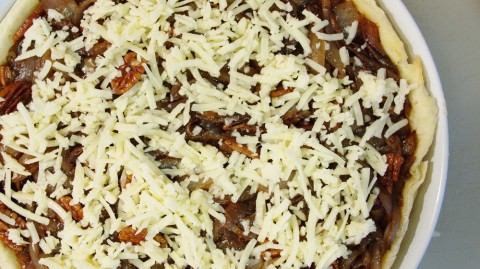 Like I said. There are a lot of steps. But none of them is hard. And I guarantee, as a side dish with dinner or as a non-egg alternative for brunch, this tart is well worth the trouble. The sweetness of the onions, the savoriness of the cheese, the flakiness of the crust, and the toastiness of the pacans will make even your most onion-hostile guests jump for joy.