I didn't grow up eating a lot of pork. I'm Jewish, yes. But that's not the reason. My father was in the Navy during World War II, you see. And while he was shipboard, as he described, it, we would eat everything that was good, first. And then, all that would be left were the pork chops. And it would be pork chops and pork chops and pork chops for weeks at a time. And my father learned to loath pork — except for bacon. And so really, we never had a whole lot of pork products in the house when I was a kid — except for bacon.
Living (and cooking) on my own for the first time, pork was kind of a revelation. I was a vegetarian for the first several years of my transition to cooking for myself. But then it was prosciutto. And then it was Italian sausages. Then meatballs. Then the wonders of a pork chop cooked actually to the right temperature. And pork sort of took off for me as the default meat, especially when I want to use just a little meat to give a dish a lot of flavor.
I'm given to understand, from the reading of other blogs, that my attachment to fine swine is hardly uncommon. Others, it seems, may even like the fruit of the cloven hoof more than I. But sometimes, I'll make something that is, lets say, pork overload. And far from shying away, I am shocked to find myself reminded of that initial piggy revelation.
This is one of those dishes.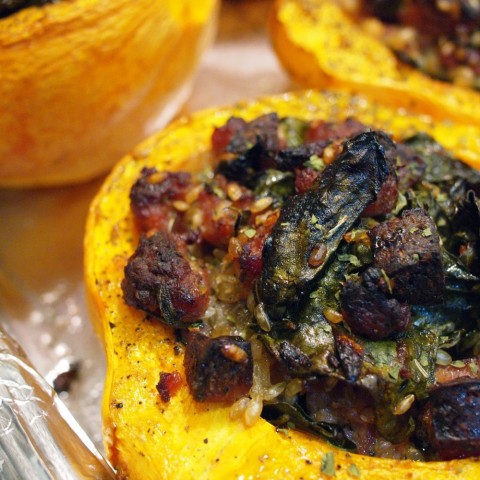 2 Small Winter Squash (like sugar pumpkins, or some such) halved and scooped out
1.5 lb Country Sausage, removed from its casing and cut up small (if you're in the mid-Atlantic, the Amish do this really well)
1 lb Smoked Country Sausage, cut up small (again, Amish time)
1/2 lb Collard Greens (or kale), stemmed and chopped coarsely
4 Cloves of Garlic
1 Onion, Diced
1 cup Cooked Brown Rice (a generous cup)
2 tsp Dried Sage
1 tsp Rosemary
1 tsp Thyme
1 tsp Parsley Flakes
Salt
Pepper
Olive Oil
Preheat your oven to 400F. Arrange the winter squash halves open side up in a roasting pan, rub them with olive oil, and season with a little bit of salt and pepper. Roast for 20 minutes (until they are about one third of the way cooked), then remove from the oven and set aside.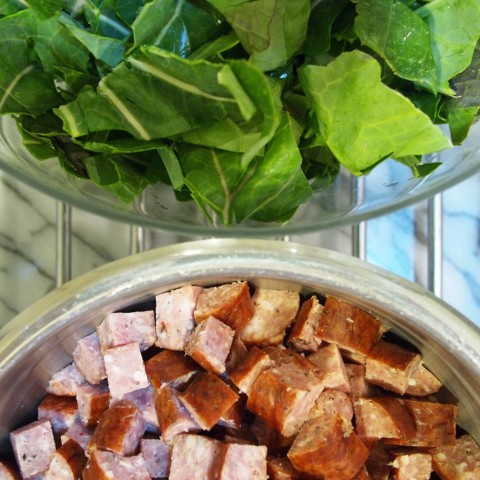 While the squash are pre-cooking, heat a sauté pan on the stove over a medium flame. Add olive oil, the diced onion, and a little salt, and cook until the onion is translucent. Add the garlic, sage, rosemary, thyme, and parsley, and cook for another two minutes. Add all of the sausage, and cook until the country sausage is about three quarters of the way done (about 10 minutes). Add the chopped collards, and cook with a lid for about ten more minutes (until the collards have wilted). Then add your cooked rice, season with salt and pepper, mix everything well, and spoon as much filling as will fit into each of the four squash halves.
Place the squash back in the oven, and cook until the shells offer no resistance when poked with a knife, and the top of the filling is a medium brown (about an hour).