Welcome to self-congratulation-ville, population — me. That's right, friends. This post marks number one hundred for Twice Cooked. And it marks just about (though not quite) one year of blogging about food, politics, and whatever else it is you find on this sight. So — celebratory pigs!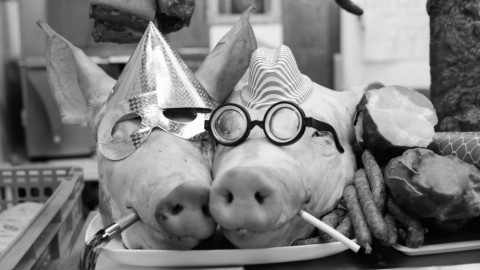 I'd like to thank you all (dear readers!) for showing enough interest in Twice Cooked to keep me at it. And I'd especially like to thank the truly excellent stable of guest bloggers who have filled in, here and there, when I've been away. So thanks — Beth, Sara, and Sharyn. (And sorry in advance, Sharyn, about the pig heads!)
Meanwhile, this post can't be entirely about tooting my own horn. I've been thinking about just what kind of recipe would be cool enough, impressive enough, yummy enough for a special celebratory post such as this. And this is what I've come up with: today's experiment is peach upside down cake.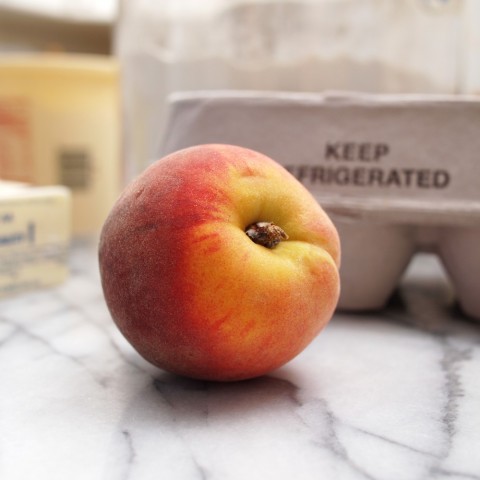 It is, after all, peach season. And upside down cake desperately needs some rehabilitation, having been saddled with all manner of unfortunate business like canned pineapple rings, cheapy maraschino cherries, and — well — isn't that enough to sour us right there?
This version of that fifties housewife classic takes some steps to clean up its over-processed, under-flavored past — mostly by doing two things. First, you'll notice that I use real fruit and only real fruit in this recipe. The fruit is in season, and it's ripe, and I should hope that if you want to make this at a different time of year, you sub out the peaches for something else that's in season and ripe. Because — you know — that's kind of important.
Second, I've turned this into a yogurt-based cake. All the other upside down cake recipes I've seen online call for either a half cup of water or a half cup of milk to provide the liquid in the batter. I'm here to tell you, folks: yogurt is better. There's something about yogurt that leaves the cake moist but not soggy, and that adds just the tiny bit of creamy tang you need to complement the acidity of the fruit.
I cannot, unfortunately, take credit for innovation number two. Only after watching Sarah eat peaches and yogurt together for years and years for breakfast did it occur to me that this — this is a combination I can work with.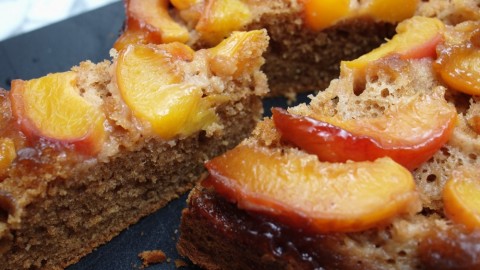 4-5 Small Peaches (each cut into six slices)
1.5 cups Unbleached AP Flour
1 cup Dark Brown Sugar
.5 cup Unsalted Butter (plus a little more to grease the pan)
.5 cup Yogurt
1 Egg
1 tsp Baking Powder
1 tsp Baking Soda
1 tsp Cinnamon
.25 tsp Nutmeg
Zest of 1 Lemon
Salt
Preheat your oven to 375F. Thoroughly grease an eight-inch cake pan, and sprinkle a scant half a cup of brown sugar in the bottom. Then arrange your peach slices on top of the sugar.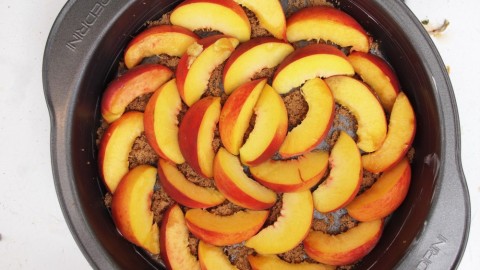 In a small bowl, sift together the flour, baking powder, baking soda, cinnamon, nutmeg, and salt. In a separate bowl, cream together the butter and the rest of the sugar. Beat the egg and lemon zest in thoroughly. Then in alternating shifts, add the dry ingredients and the yogurt, a third at a time, beating until the whole thing comes together into a slightly thick batter.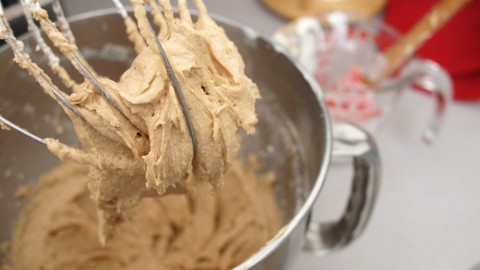 Pour (or maybe scrape) the batter into the cake pan. Spread it evenly over the peaches with a spatula. Then bake for about 40 minutes, or until a knife stuck into the middle of the cake comes out clean.
When the cake is done baking, wait five minutes for it to cool just a little. Then carefully separate it from the walls of the pan, turn it over onto a plate (or cutting board), and give it a forceful rap on its bottom. Lift, wiggling the pan a bit as you go, and the cake should release.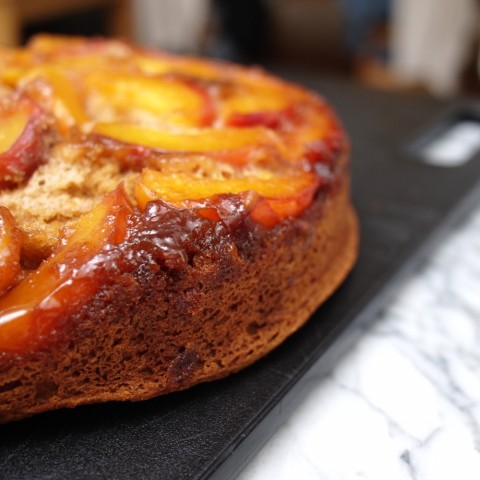 It is possible that, despite your efforts, some of the fruit may stick to the bottom of the pan. If this happens: don't worry! No one will know if you pick it out of the pan and then manually stick it in place.