I am given to understand that there are some people out there for whom chicken liver is not a treat. This, I must say, I do not understand.
You see — I grew up in what you might call a liver household. By which I mean: I grew up with a Jewish mother who made — I exaggerate not at all — the best chopped liver ever. Chopped liver, in my house, was like caviar. It's the thing that my mother brought out for the fancy guests to serve before dinner with cocktails. It's a thing that she served with toast points, and little crumbles of hard boiled egg. It's the thing that most, out of all my mother's really fine cooking, received oohs and ahs, and — literally — applause. And so it's a thing that I learned at a very young age to ingest in considerable quantities, and with great savor.
The thing about chopped liver that you need to understand, though, is this: I can never actually make it for myself. I love it. And I request it from my mother every time I go home. But in my own house it's absent: partly because it's my mother's dish — she owns it and I'd just be an imitator; and partly because even my best imitation, no doubt, could never even come close to measuring up to hers.
But the sad truth of the matter is that I don't make it home as often as I'd like. And in between times, I do sometimes get bit by the liver bug. So what to do?
The answer, my friends, is that I'm forced to make my own liver way in the world. And carve out my own liver niche.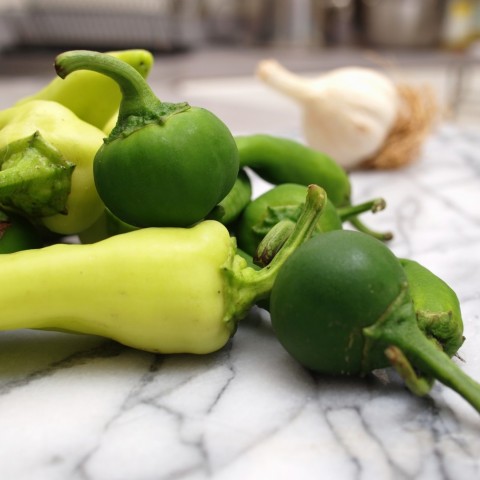 Over the years, I've made liver in lots of different ways: as an accompaniment to pasta; with scallops; with cabbage and grapes (I yanked that one from the Complete Robuchon cookbook
); and with kale and guanciale. This dish, though — fried chicken livers with hot sauce — might be my best effort yet.
It combines my lasting liver love with a constellation of complementary flavors and textures: the delicious crust of fried chicken, the sweetness of honey, the piquancy of vinegar and lemon, and the complex spiciness of the mix of hot peppers that are right now in season on the East Coast.
If you're really categorically against liver, I suppose that you could make this with some other chicken part — thighs, for example. But then you'd just have fried chicken with a little spray of sauce. Chicken livers add important richness and texture to the dish. And besides: if we're going to insist on using up the resources required to grow and eat animals, doesn't it behoove us to eat all their delicious parts? Not just the few that are sanctioned by the modern American palate?
The Livers:
1 lb Chicken Livers
1-2 cups Buttermilk
2 cups White Flour
1 tbsp Paprika
1/2 tsp Cayenne Pepper
Canola or Vegetable Oil
Pepper
Salt
The Hot Sauce:
1 pint Mixed Hot Peppers, stemmed
1 Head of Garlic
2 tbsp Honey
1 tbsp White Sugar
1 tbsp White Vinegar
1 tsp Thai Fish Sauce
Olive Oil
Salt
2 Lemons, cut into wedges
To make the hot sauce: To the work bowl of a food processor, add all of the ingredients and puree. Taste, and add more honey, salt, or vinegar as needed. Refrigerate for at least six hours before serving. It is not an impressive hot sauce directly out of the food processor. But it improves immensely with just a little bit of time.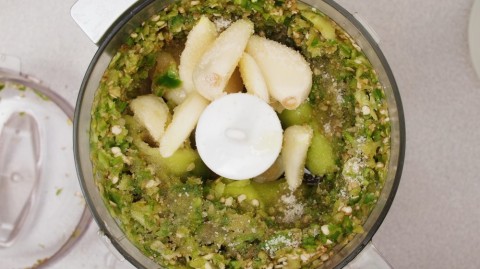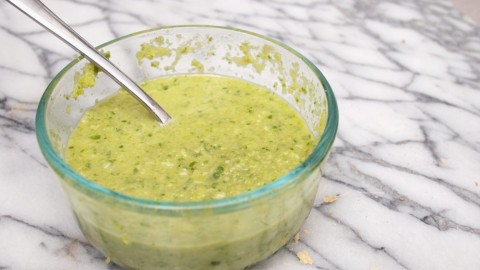 To make the livers: Clean and divide the chicken livers (each liver should have two lobes, and the lobes should be separated and cooked individually). Add the livers, along with enough buttermilk to cover them, to a bowl (or plastic bag), and marinate for at least one hour in the refrigerator.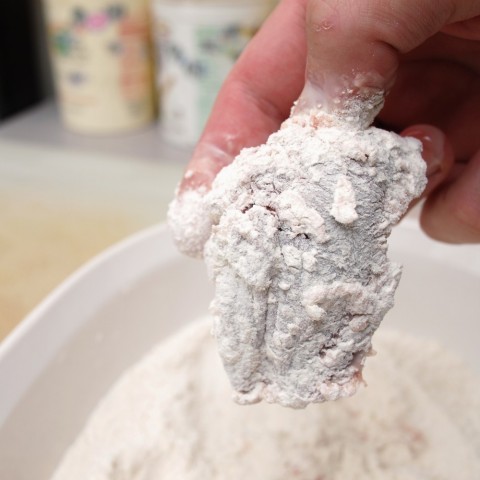 At the end of that time, heat a twelve-inch cast-iron pan over a medium-high flame. Add the flour, paprika, cayenne pepper, and generous quantities of salt and pepper to a dry bowl, and whisk together. Then one by one, remove about half of the chicken livers from the buttermilk. Brush off any excess liquid, dredge thoroughly in the seasoned flour, and set on a platter.
To the heated pan, add a quarter to half an inch of canola or vegetable oil. Wait for it to come to temperature (to test the temperature, add a small lump of dough — flour plus a drop of buttermilk — to the oil; if the dough fries right up, you're good to go). Then carefully add the chicken livers to the pan, allowing them to fry for four to five minutes, turning them once in the middle.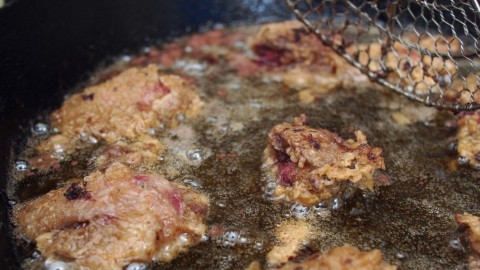 Remove the livers to a second platter lined with paper towels, and immediately salt. Then repeat the procedure with the second half of the livers (it's best not to dredge all of your livers at once. Otherwise, by the time the first batch is done, the second batch will be soggy).
To serve: Serve the livers piping hot, accompanied with lemon wedges and a generous squirt of hot sauce. If your guests are determined that it's too spicy, a dollop of sour cream will cut the heat pretty well.
Enjoy!