Sometimes I cook because I'm excited about a new idea.  Sometimes, it's because I'm hungry, or because I want something specific, or because I want to impress my friends, or because I'm guilted into it by Sarah, who tells me:  Really?  You want to order in again?  Didn't we just get a bunch of vegetables from the CSA?
And sometimes, I cook because I'm brain-dead — because I have spent the entire day going through 19th-century newspaper articles, or writing a section of my dissertation that is particularly heavy with citations.  I need a break.  So I bake.  Usually cookies.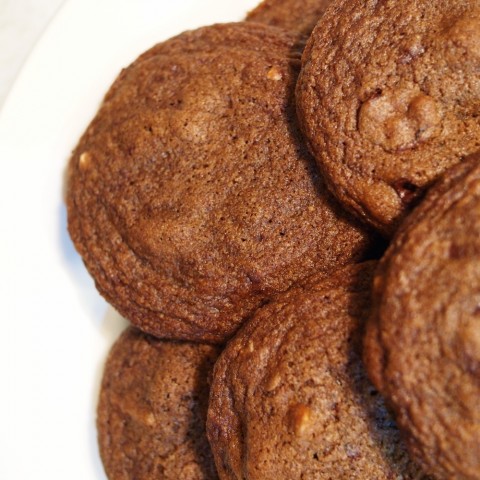 I don't even really like cookies.  Chocolate chips aren't my thing; I find the dough sort of leaden; they can be cloying, or too buttery, or not buttery enough, or they could spread out on the sheet, and what a mess that is!  But cookies are brainless, and they're therapeutic, and they are, occasionally, just what I need after too much scholaring.
So here's what I did yesterday — chocolate-chocolate-chunk cookies, with almond slivers and dried cherries.  They're dead simple.  They're based on Mark Bittman's chocolate chip cookie recipe in How to Cook Everything (with some fairly significant changes).  They're satisfying, but not too sweet.  And by no fault of my own, they turned out drop-dead gorgeous!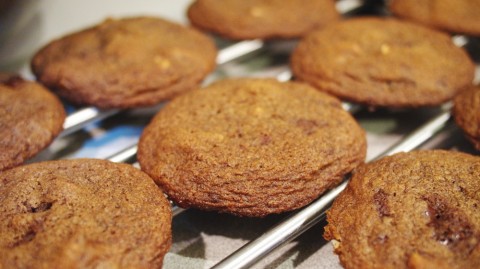 2 sticks Butter, Lightly Chilled
2 cups AP Flour
2 Large Eggs
1 cup White Sugar
3/4 cup Dark Brown Sugar
1/4 cup Cocoa Powder
1 tsp Vanilla Extract
1 tsp Baking Soda
1/2 tsp Salt
1 cup Coarsely Chopped Bittersweet (or Unsweetened) Chocolate
1/2 cup Coarsely Chopped Dried Cherries
1/2 cup Slivered Almonds (Preferably toasted)
Preheat your oven to 400F, move your racks to the middle, and line two half-sheet pans with parchment.
Cream the butter, sugar, and vanilla together, thoroughly (this is key to having light, buttery cookies, so give it time!).  Add eggs, and beat until you have a pale paste.  Add the dry ingredients, and mix just until your dough comes together.  Then add your chocolate, cherries, and almonds, and mix just a little bit more to distribute evenly throughout the dough.
Form the dough into balls, about 1 1/2 tablespoons in volume, and distribute evenly across the two sheets (it should make about two dozen cookies).  Bake for 11 minutes, swapping the top sheet pan with the bottom about halfway through.
Allow the cookies to cool on the sheets for five minutes before you move them to a rack to cook all the way.
Like I said:  simple, effective, and a great treat for those brain-dead days when nothing else will do.