It turns out, to my great relief, that my mental state in the kitchen does not necessarily reflect what finally comes out of the oven.
Today started out a bit frazzled, and far from the relaxation that baking often provides, it only served to tip me over the edge into crazy.  I ended up flitting around the kitchen this afternoon, increasingly frenetic, barely able to muster the coordination to accomplish each cookie-baking task.  I banged into counters, dropped spoons, spilled sugar, muttered to myself, and at least once, yelled.  And nothing, I was sure, was going to turn out like it should.
It was the cold, I think, that had me all full of nerves.  It was the unexpected snow outside, and the unexpected need to turn on the radiators for the first time this season.  A full month ahead of schedule.
But today's experiment was a simple one.  Lucky for me.  Simple, elegant, flaky, buttery, exquisite.  Shortbread.  And despite me — I'm absolutely sure — it came out exactly like it should: like a warm, comforting hug on a winter's day.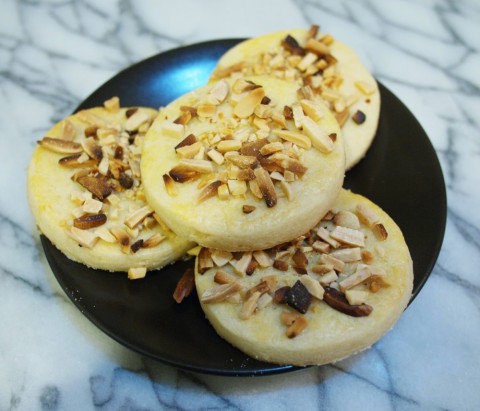 Now, as we get to the recipe part of the post, I'm sure that you're thinking to yourself: shortbread?  Really? This hardly gets an A+ for creativity.  I'm sure that you're rifling, in your mind, through your index of a thousand-and-a-half shortbread recipes.
But did I mention that it was cold today?  Shortbread, to my California-bred imagination, is real cold-weather comfort food.  And so you're going to get my version as well.
Try it.  I'm telling you.  You won't be disappointed.
2 cups All Purpose, Unbleached Flour
1 cup (2 sticks) Unsalted Butter, at room temperature
1/2 cup Confectioner's sugar
1/2 cup Almond Slivers, toasted and crushed
1 Egg, beaten with a little bit of water
1 tbsp Granulated Sugar
1 tsp Vanilla Extract
1/2 tsp Salt
In one bowl, cream together the butter, confectioner's sugar, and vanilla.  While in a second, whisk together the flour and salt.  Add the latter to the former, and mix until you have a dough that looks something like coarse sand.  Move the dough into a ziplock bag, form it into a loose disk (being sure not to compact it too much), and refrigerate for about a half hour until it firms up.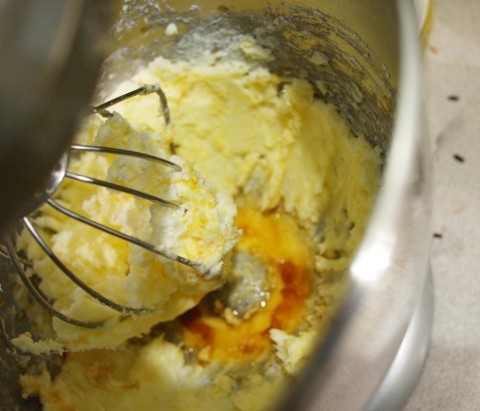 After half an hour, preheat the oven to 350F and line a cookie sheet with parchment.  On a lightly floured pastry board (or clean counter), roll out the dough until it's about a quarter of an inch thick.  Using a cookie-cutter, cut the the dough into rounds.  Then re-roll, and re-cut, until you've used as much of the dough as you can manage (I got fifteen rounds in all).  Arrange the disks on the cookie sheet, and refrigerate for fifteen minutes.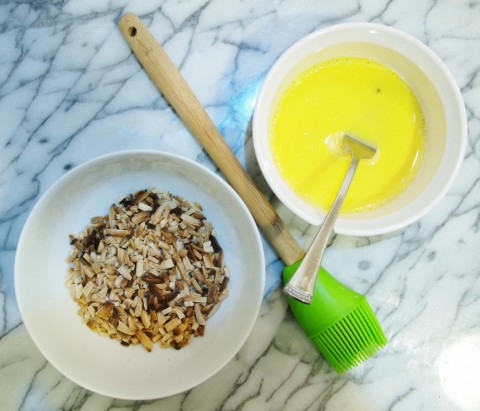 After fifteen minutes, remove the cookie sheet from the refrigerator.  Brush each cookie with egg wash, sprinkle them with toasted almonds and granulated sugar, and bake for about 20 minutes, or until the cookies are just barely golden.
Cool for at least twenty minutes, and remember:  don't eat them all at once.