So … strawberries. They're in season in the mid-Atlantic. For real this time.
They weren't just a couple of weeks ago, when I made my mixed berry tart. Those strawberries were trucked up from Florida — characteristically swollen and colorful, but also characteristically bland. The strawberries in this post are different. They are from right next door — from New Jersey, less than fifty miles away. And oh yes (dear readers!), they are sweet.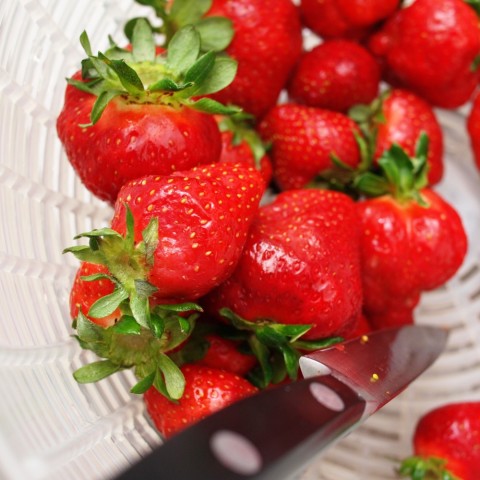 They're the product of the McCann Farm's good work. You may recall, from a post that I made last year, that the McCanns set up shop not too far away from me, as the sole purveyor at the (optimistically named) Roxborough Farmer's Market. They shut down for 2011 when winter came. But now they're back. With a vengeance.
Last year, when I wrote about the Farmer's Market, I told you about their vibrant vegetables and their genius hot-pepper bar. I told you about their sweet, sweet corn. And I wrote — and I quote — that they do the best peaches, strawberries, and sour cherries that I have encountered since I moved here.
Clearly, that part has not changed.
Immediately, upon seeing the strawberries last Friday at the McCanns' inaugural 2012 appearance, I bought up a generous three quarts. I took them home thinking that I would make a pie, or maybe a crisp. But upon tasting them, I thought to myself: cooking these berries would be unbearable (un-berry-able?)! They are far too good to transform with heat. Everything delicate and wonderful about them would be destroyed.
So I took a different approach. Vinegar. If this recipe is about anything other than the strawberry itself, it's about the balsamic. I almost decided to call it Balsamic Strawberry Cheesecake Mousse, in fact. But it seemed like a burdensome moniker.
That is what it is, though. And the McCanns' goodies aside, it's the balsamic vinegar — good balsamic vinegar — that makes this dessert so compelling.
At any rate, this — strawberry cheesecake mousse — is super easy to make. And it's super tasty. And it will be sure to impress the guests at your next dinner party (assuming that your berries are as delicious as mine). There's only one thing you should be aware of: to make the mousse itself, you need to have a whipped cream dispenser.
But that's no problem, right? Should you not already have one, that oversight can be remedied here
.
The Strawberries:
1 quart Strawberries
1 tbsp Balsamic Vinegar (the good stuff, if you can)
1 tbsp Granulated Sugar
The Mousse:
4 oz Fresh Chèvre Cheese
1 cups Heavy Whipping Cream
2 tbsp Confectioners Sugar
.5 tsp Orange Flower Water or Cointreau (optional)
Zest of one Lemon
The Sauce:
1 pint more Strawberries
2 tbsp Balsamic Vinegar
2 tbsp Granulated Sugar
1-2 tbsp Water
Mint Leaves, for garnish
To Prepare the Strawberries: Core and halve your strawberries. In a medium-sized mixing bowl, add the sugar and balsamic vinegar to the berries, and toss to coat. Then move the strawberries to a mesh sieve, suspend over the bowl, cover, and refrigerate for at least two hours to allow them to macerate and drain.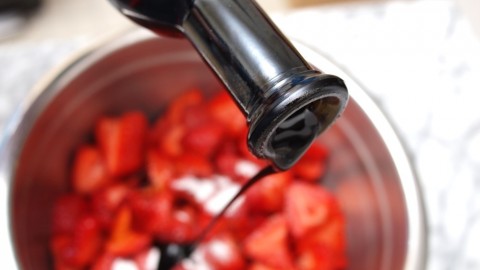 To Prepare the Mousse: To a bowl or beaker, add the cream, sugar, orange flower water, and lemon zest; and into that, crumble the chèvre. Whisk until the mixture is smooth, then pour into a whipped cream dispenser. Load the dispenser up with one NO2 charge, shake well, and expel the entire contents into a fresh bowl. Gently mix to make sure that the consistency is even. Then cover and refrigerate (you can do this up to eight hours ahead of time).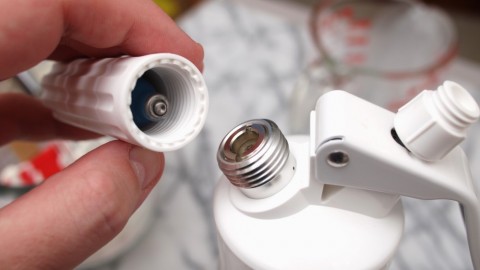 To Prepare the Sauce: Stem your pint of strawberries, and add them to a blender or food processor, along with the water, and the liquid that has dripped out of your macerated berries. Blend on high until the mixture has completely liquefied. Then pour through a fine-mesh sieve into a two-quart saucepan, stirring with a spoon to make sure that all the liquid comes through.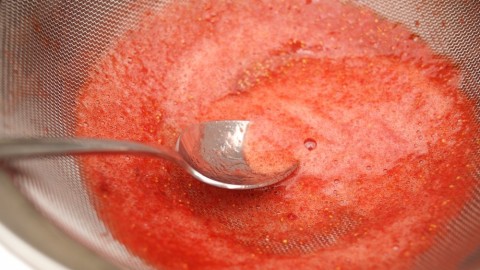 To your saucepan, add the vinegar and sugar to the liquid, and over a medium-high flame, boil until the mixture has reduced by about half and thickened to the point where it coats the back of a spoon. Then remove to a bowl (or better, a squeeze bottle), and chill thoroughly in the refrigerator.
Putting It All Together: To the bottom of four clear glasses (I like wine glasses, but you can use half-pint mason jars if you want to be hip), add just a couple of drops of the sauce. On top of that, layer a couple of spoonfuls of mousse, then enough macerated strawberries to cover it, then a second layer of mousse and a second layer of strawberries. Finish with a generous drizzle of the sauce, and a mint leaf or two for garnish.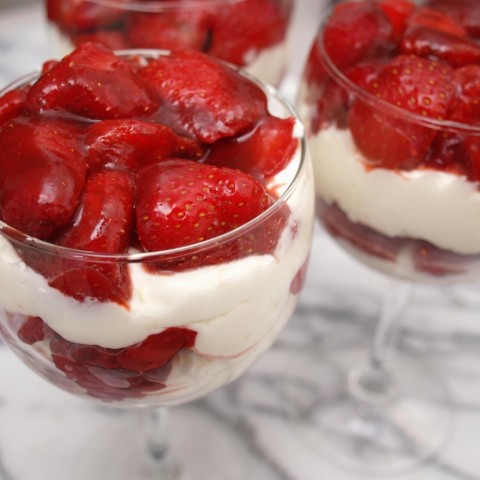 Serve immediately, and enjoy!