Sara is an artist/cook/substitute teacher/camp counselor/ part-time wedding planner at the moment, but who knows what tomorrow will bring. She graduated from the College of Charleston in 2010 and is about to start classes at UNO this fall for a Master's of Education. She just moved back home to New Orleans from Charleston, SC this past December with her boyfriend and adorable long-haired dachshund, Sophie.
I love food. I have been very lucky so far to live in culturally rich, foodie cities. And my mother is an amazing cook — so I really couldn't help but love food, since I've always been exposed to such delicious cuisine.
The recipe I am about to share has been, for the past six months, one of my favorites. I was throwing a party for my boyfriend's birthday and needed a menu idea. Since we were about to make a big move from Charleston to New Orleans, what would be more appropriate than New Orleans themed cuisine, right? And so I thought, roast beef po' boys.
For those of you not already familiar with po' boys, that might not sound so exciting. But trust me, it is delicious. It involves slow-cooking beef in a "debri" style gravy until it basically falls apart into a sloppy, scrumptious mess.
Some restaurants in Charleston, SC claim to serve po' boys on their menu, but don't let them fool you. It's really just fried shrimp on a hoagie roll. Not at all the same. It's the bread that makes a traditional po' boy. You need New Orleans style French bread, crispy and flaky on the outside and soft in the middle. Not everyone, of course, can get New Orleans bread. So I will say: if worst comes to worst, any French bread, as long as it's good, will be okay.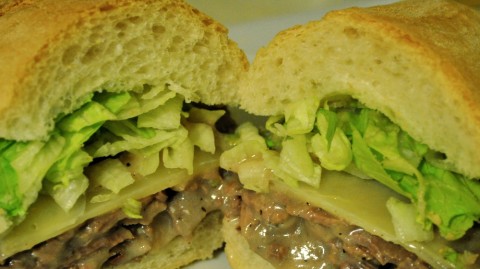 2 lb Beef Roast (rump or round are best)
3 cups Beef Broth
.5 cup White Flour
.25 cup Olive or Vegetable Oil
2 tbsp garlic
2 tsp salt
1 tsp pepper
4 French Rolls (or 2 New Orleans style baguettes)
Shredded Iceburg Lettuce
2 Beefsteak tomatoes, sliced thin
Bread and Butter Pickles
Mayonnaise
To begin, you will need a roast. I used a 2 lb. rump roast (which makes about 4 good sized portions), but in the past I have also used a round roast and it came out just as well. Bring a pot with enough water to cover the meat by an inch or two to a boil and then submerge it. Let the water return to a boil and lower the temperature to medium-high. Cook uncovered for an hour to an hour and a half, until tender.
(For those that want to know why we boil first, boiling the meat softens the fibrin in the meat and tenderizes it.)
When the roast is done, remove it from the water and place it in the refrigerator to cool for about an hour. While it is cooling, make the gravy. Use about 3 cups of broth from the boiled roast, the flour, oil, salt, pepper, and freshly chopped garlic. You can also use garlic powder or granulated garlic if you do not have fresh garlic, but I definitely recommend fresh over anything else. Whisk all of the ingredients together until mixed well and set aside.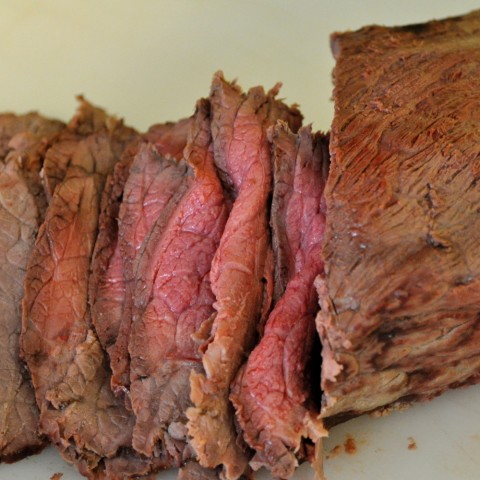 Once the roast is cooled, remove from the refrigerator and with a sharp knife, slice as thin as possible. The thinner it is sliced, the quicker it will cook.
At this point, there are two cooking methods you can you use. You can follow my oven cooked method or you can throw the sliced meat and the gravy into a crockpot and slow cook it on low for about 6-8 hours. I've done it both ways and as far as taste goes it doesn't make any difference. Oven cooking leads to a finished product sooner while the crockpot has the convenience factor.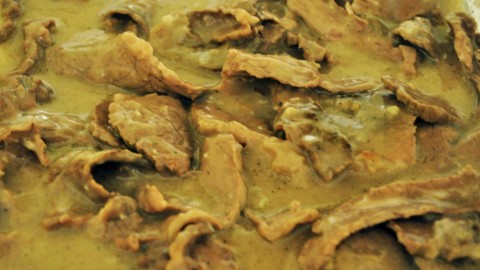 If you decide to choose the oven cooked method, preheat the oven to 350F. Spread the sliced roast evenly on the bottom of a 9×13 glass baking dish. Pour the gravy on top, and cook in the oven uncovered for an hour and a half to two hours, stirring occasionally.
Lay some slices, along with some gravy, on a split, toasted French roll. Dress with mayo, lettuce, tomato, and pickle. Add chips and a cold beer and enjoy!
(I should warn that this sandwich is sometimes referred to as the "Ten Napkin Sandwich." You will need to use at least ten napkins while eating it. So, make sure to have plenty nearby!)