A Dolley Madison cake, I told my friend Linda. That's what I want to make you for your birthday.
That's what it's called?
That's what I call it. It's a historical recipe — supposedly her favorite when she was First Lady. It's a sponge. With caramel icing.
No chocolate, then? Linda sounded disappointed. Then: But it does sound good. As long as it's good, no chocolate is no problem.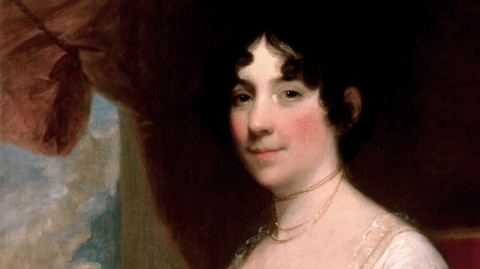 I laughed to myself. The truth is that I had actually contemplated making her a Dolley Madison cake. For about five minutes. I had heard about the recipe on NPR, and I thought: that sounds pretty tasty. But by the time I mentioned it as a birthday possibility, it was just a clever ruse. I knew that Linda would want chocolate. And aren't birthdays better when they're tempered with a modicum of surprise?
I'm not actually a very good liar, but Linda believed me. Even when I couldn't show her a picture of the Dolley Madison, or — you know — produce the actual cake when she came over for the meal, she still didn't question it. She had apparently mentioned to her family that Sarah and I were doing this thing, and they wanted pictures — never having seen a historical cake before, themselves. So there were a lot of expectations.
Then dinner happened — baked Camembert with peaches and pecans, and roasted vegetables with smoked sausage. And then — the cake. Expectations thwarted. But deliciously, both in the scheme's deception, and in the cake's execution.
The cake is a chocolate whiskey, not a Dolley. It is fudgy and rich, a little smoky, with a white chocolate glaze, and a drizzle of caramel. Chocolate through and through, it bears only the most superficial resemblance to Madison's pride in its caramel accent. And there is nothing, I assure you, that is historical about it.
At any rate, the chocolate whiskey cake, though it was produced under false pretense, turned out to be a hit. Sarah and Linda both agreed. And so I present it to you here: a most tasty testament to my meager capacity for deceit.
The Cake (adapted from Patricia Wells's Bistro Cooking
):
360 grams Bittersweet Chocolate, chopped (use the good stuff. It matters)
5 Large Eggs, separated
1 shot Whiskey (must be drinkable; needn't be great)
3/4 cup Granulated Sugar
2/3 cup Unsalted Butter
1/3 cup Unbleached AP Flour
The Glaze:
250 grams White Chocolate, chopped (again — the good stuff)
1/2 cup Heavy Cream
3 tbsp Unsalted Butter
1 shot Whiskey
The Caramel Sauce:
1 cup Granulated Sugar
5 tbsp Unsalted Butter
1/2 cup Heavy Cream
To make the cake: Preheat your oven to 350F, and grease a round cake pan. Over a double boiler, combine the chocolate, butter, and sugar, and stir until it has all melted together. Then remove from the heat and allow to cool.
Whisk in the egg yolks and whiskey, and then the flour, mixing thoroughly to make sure it is all incorporated. Then beat the egg whites to stiff peaks, and gently but thoroughly fold them into the batter.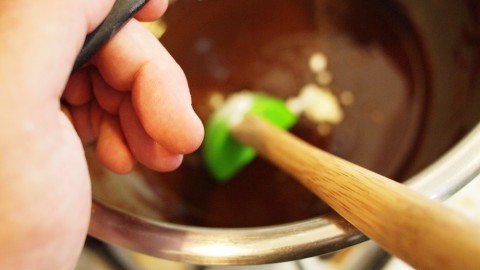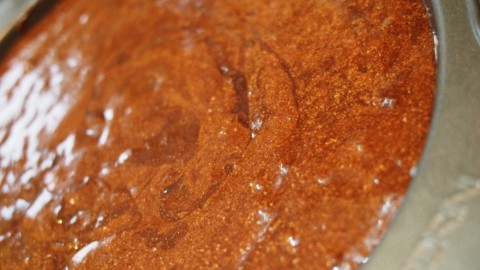 Pour the finished batter into your greased cake pan, and bake for 35-45 minutes, or until a knife inserted into the center comes out mostly clean. Then unmold onto an appropriately sized platter, and set aside.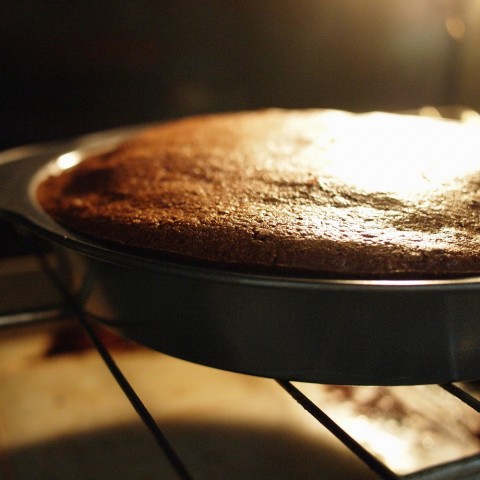 To make the glaze: Add the chopped chocolate, the whiskey, and the butter to a bowl. In a small saucepan, heat the cream to a boil, and pour it over the other ingredients. Allow it to sit for about five minutes, then whisk vigorously until the mixture is smooth. Remove to a pourable container, and refrigerate until it is room temperature.
To make the caramel sauce: Over medium heat, add the granulated sugar to a small saucepan. Allow the sugar to melt, agitating the pan from time to time to make sure that the process happens evenly (roll the pan, don't use a spoon). Then watch carefully for the caramelization. It will happen quickly, and you don't want the sugar to burn (too much).
Once the sugar has caramelized, turn the stove as low as it will go, add the butter, and whisk vigorously until it has been incorporated. Then add the cream and do the same. Be careful. Caramel is a handful of burned fingers waiting to happen.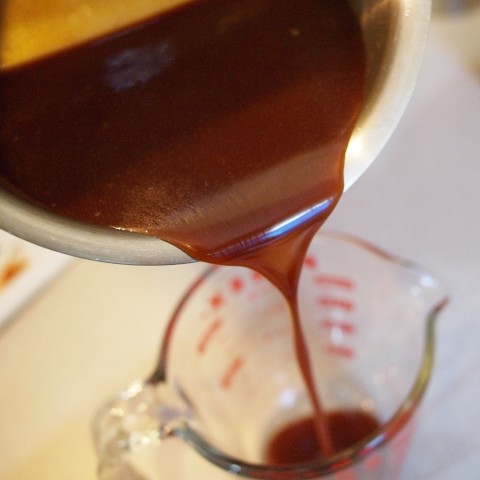 When the sauce is complete, allow it to cool for twenty minutes, then pour into a squeeze bottle and set aside. Do not refrigerate.
Putting it all together: When the white chocolate glaze has thickened to the consistency of Elmer's Glue (sorry for the comparison!) remove from the refrigerator. Pour the glaze over the cake, tilting the platter such that it runs over the cake evenly. Don't pour too much of the glaze at a time, or you'll end up with an unsightly moat on the platter. And don't feel compelled to use it all. The glaze should be translucent, not opaque.
Once you have poured the glaze, refrigerate the cake for about an hour to allow it to set. Then remove it from the refrigerator, and squeeze the caramel sauce over the top. You can make any pattern you want, here, including written messages. I, however, am not that talented. So I have gone with more of an Abstract Expressionist approach.
This cake is best served the day it is made. But refrigerated, it should be good for four or five days after. To serve: decorate a dessert plate with more of the caramel sauce. Plate a smallish slice (it is very rich) with a dollop of unsweetened whipped cream or some fresh raspberries.  Accompany with a shot of good whiskey.