Here are two things about rhubarb that you might not know, that you might find interesting, but that might put you off of using that red, tart, delicious celery lookalike:
Thing one is that the use of rhubarb as food is a relatively recent innovation, dating back in Europe only to the seventeenth century, according to the Wikipedia. Until then, rhubarb was used medicinally — as a laxative. Apparently, in Europe, in China, in the Middle East, and elsewhere, if you went to the doctor complaining of being stopped up, a strong dose of rhubarb was the cure. But more than that — pre-modern doctors (and lots of modern ones, too) were eminently concerned with the movement of the bowels, linking all sorts of physical and mental ailments to regularity, or lack thereof. So if you went to the doctor complaining of enervation, or depression, or even with a hangover, you were likely to get a dose of rhubarb, too.
Thing two is that rhubarb is poison. Really. There's no reason you should know this, as it's sold in grocery stores, at least in the United States, stripped of its leaves. But rhubarb leaves contain fairly high concentrations of oxalic acid which, in sufficient quantities (about 25 grams for a 140-pound human), will shut down the kidneys and lead to death. One or two leaves aren't enough to do it, but even in that quantity it will make you sick. And there are apparently methods of cooking the leaves to greatly increase their potency. Which we know because it has periodically been a favorite method of disgruntled cooks to off their families, friends, or employers.
But don't let the hard, unvarnished facts of rhubarb get you down. Stripped of its deadly leaves, cooked with a little bit of sugar, rhubarb is safe and delicious — an honest-to-goodness spring treat. It is fresh like cherry blossoms are fresh, or new grass, or new growth on trees. It's fresh like a dewy spring rain. Rhubarb is not what Samuel Taylor Coleridge had in mind when he penned the lines about the vernal showers that gladden the green earth. But it really should be.
Marisa McClellan, author of the brilliant Food in Jars blog and local Philadelphia culinary luminary, puts it very well, I think, when she writes:
I love the fresh, apple-y scent it has when you cut into it, and I adore the electricity of its color. After a winter of dark greens and root vegetables, seeing that vivid pink on the cutting board feels like salvation.
Everything about rhubarb is vivid. Everything about it is a wakeup call from the parsnips and winter squash that dominate cooking all the way through March. Once the strawberry plants snap to attention and start pushing out fruit, it makes a great counterbalance to their intense, red sweetness in pies, or crisps, or sometimes upside down cakes. But even alone — even raw — rhubarb shines.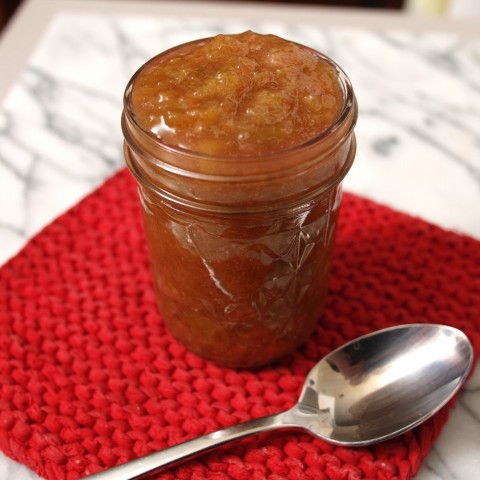 This week's experiment takes rhubarb and pairs it with another treat that's just coming into season — ice cream. I happened to come across a giant bundle of rhubarb this week, just as I was planning to freeze the ice cream maker for its first go of the year. And looking back and forth between the red stalky vegetable and the quarts of milk and cream, I thought — why not!
Rhubarb ice cream didn't sound particularly appetizing to me, but rhubarb did sound delicious as a topping. So I borrowed (with some modification) a page from David Lebovitz's The Perfect Scoop
, made a batch of his intensely vanilla ice cream, paired it with rhubarb compote (which is also great when spread on homemade bread, by the way), and had a grand old time.
My dinner guests, this week, oohed and ahhed at dessert. Sarah, who had told me that she wanted to measure out her own quantity of compote because — really? rhubarb? — was converted. And I'm pretty sure that you all will be converted, too.
Rhubarb, it seems to me, is around for entirely too short a time. So I would encourage you to try this recipe sooner than later. It is good. It is — despite the poison leaves — unlikely to kill you. And it makes an electric start to the spring vegetable season.
Eat!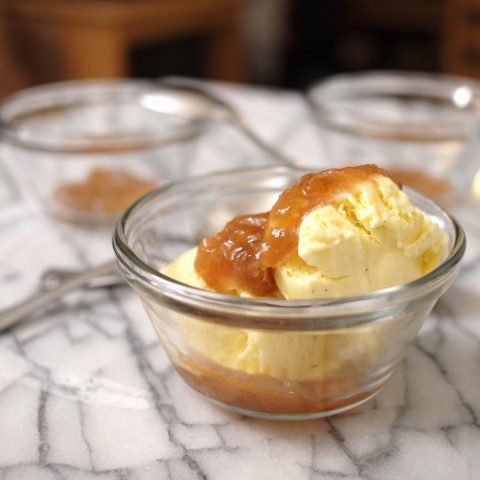 For the Ice Cream:
2 cups Heavy Cream
1 cup Goat Milk (or cow's milk, if you really feel you must)
3/4 cup Granulated Sugar
6 Egg Yolks
1 tsp Vanilla Extract
1 Vanilla Bean, split and stripped of its seeds
Salt
For the Compote:
1 lb Rhubarb
1 cup Granulated Sugar
Juice of 1 Lemon
Salt
To make the ice cream: Add one cup of cream to a metal bowl, and put it in the refrigerator to chill.
To a saucepan over low heat, add the rest of the cream and the milk, along with the vanilla bean and its seeds. And stirring, allow the mixture to come to a low simmer very slowly. When it begins to steam, and when bubbles begin to show, remove the vanilla bean, whisk the egg yolks in a separate bowl (just enough to break them up), and pour in about a third of the hot milk mixture, whisking vigorously to temper the yolks and keep them from curdling. Then pour the whole thing back into saucepan, and continue to whisk until the mixture begins to thicken (this should happen at about 170F).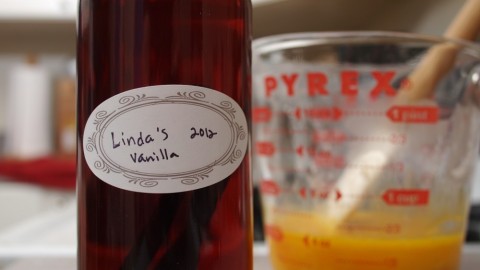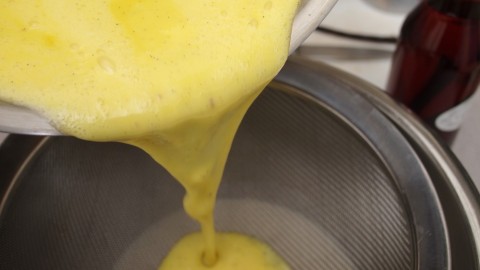 Once your custard base has thickened, pour it through a sieve into the bowl of chilled cream. Add the vanilla extract, stir, and chill thoroughly in the coldest part of your refrigerator. When the base has chilled, freeze it according to your ice cream maker's directions.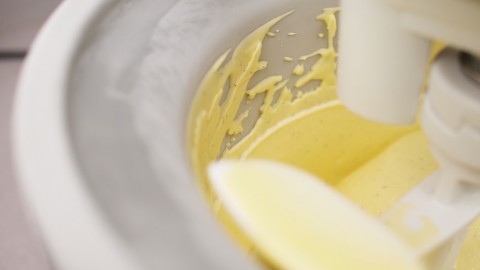 To make the compote: Strip the rhubarb of any remaining leaves, and cut its stems into quarter-inch slices. To a saucepan over medium heat, add the slices, sugar, lemon juice, and a pinch of salt, and cook together, stirring, until the sugar dissolves, the mixture boils, and the rhubarb begins to soften.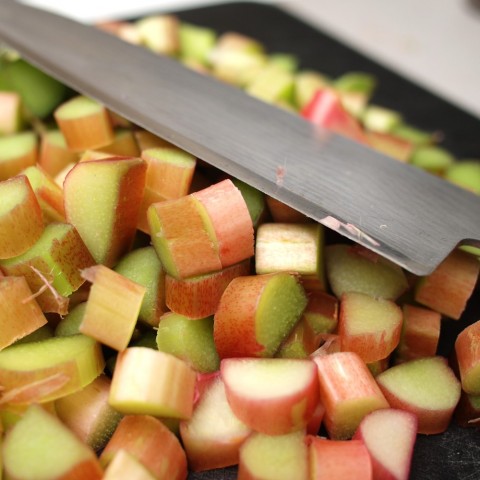 Cook the compote for about twenty minutes, until most of the rhubarb has gone to mush, and the mixture thickens just about to the consistency of jam. Remove to a pint jar (or similar container), and refrigerate.
Putting it all together: When it's time for dessert, check to make sure that the ice cream has thoroughly frozen, and the compote has thoroughly chilled.
Into a dish, for each of your guests, add about a teaspoon of compote. On top of that, place two to three perfect scoops of the vanilla ice cream. And then, on top of that, dribble more compote. You're welcome to add nuts, whipped cream, and a cherry on top of that to turn it into a sundae, but there's no need.
Serve immediately — before the ice cream melts! — and enjoy.