[As usual, please click to expand the photos. They are better viewed large.]
Elsewhere on the blog, I've mentioned that I really love having the opportunity to see people make things — and especially things in which they take a lot of pride. Whether it's fermentation, distillation, canning, or coaxing delicate green shoots out of the stony soil, for the folklorist in me — for the part of me that's interested in what it means to live artistically, to live deliberately, and to trade in the handmade — I can think of no higher treat.
This is why I was so excited that, after several months of crossed schedules and unavoidable delays, I was finally able, this week, to go and visit the Wagner Farmstead.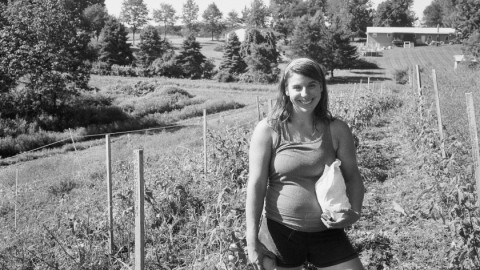 I met Liz Wagner a little while ago, now, at a fundraiser for a farmer's market put on by my local nascent food co-op here in the Manayunk-Roxborough area. She had come to stand behind a table, hand out literature, and ply passers by with sample cloves of what she described to me as the most soulful garlic on Earth.* Almost immediately, I asked if I could come see her set-up, take some pictures, and write a blog post. And somewhat to my surprise — because I'm always surprised by things like this — she agreed.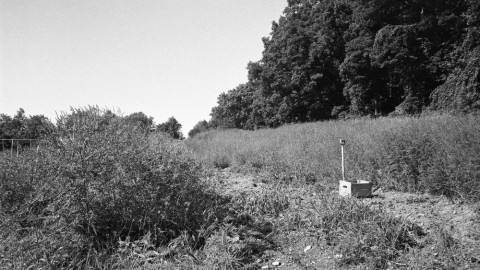 It turns out that the Wagner Farmstead is a ways farther away from Philadelphia than I had expected. During the course of our email exchange, Liz gave me the address in New Tripoli, Pennsylvania. And then she warned me: it may not come up as an address on a directions search — it may be beyond the horizon of Google Maps. In which case, she said, I should find a more well-trafficked intersection nearby, and make my way from there.
Liz was right. No dice on the Google. But the drive turned out, at least in part, to be a picturesque excursion, complete with rolling hills and sweeping green vistas. And after a couple of very pretty false starts (mini-adventures?), Google's absence meant little when it came to actually finding my way.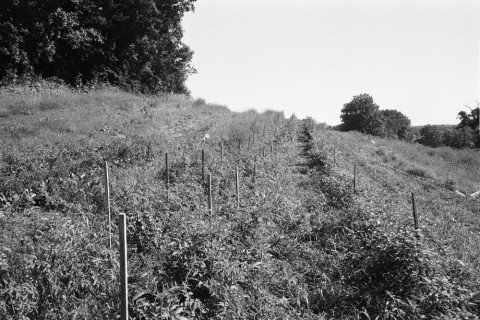 The thing about the Wagner Farmstead that I think is so cool is that it's Liz's first year out on her own. After a jaunt through Philadelphia and an internship on Keith's Farm in New York (sorry, no website), she's come back to the area where she grew up to carve rows of vegetables out of a sprawling cornfield. She has no mechanized equipment, no irrigation system, and no electricity. But she's growing squash and beans, nightshades, cabbages, onions, and much more. And she's growing it in quantity enough to support a CSA and two weekly farmer's markets.
I'm all about feeding people, Liz told me as we walked through the unweeded fields around her rows. Her friends, she said, all told her that she really needs restaurant contracts to make it as a small, chemical-free farmer. And that to do that, her produce would need to have a boutiquey quality, miniature and pretty.
But while Liz grows a lot of boutiquey varieties of vegetables — heirloom tomatoes, tomatillos, kohlrabi, and chicory greens — restaurants aren't her thing. Her produce is a little bigger, a little tougher, a little more durable than what a nose-in-the-air chef might prefer. It's what her customers at the South & Passyunk Farmers' Market want. And because of it, folks who are buying her vegetables get a little more for their money.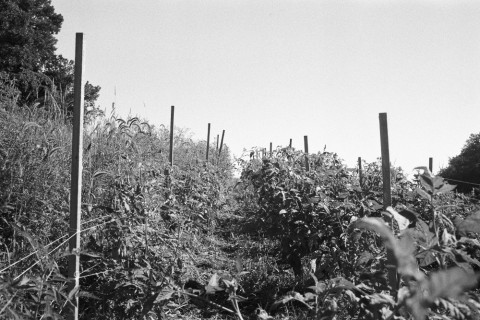 Certainly, there are lots of places on the Wagner Farmstead where the fact that it's a first-year operation shows. And Liz was up front about that. When I say that she walked me through unweeded fields, I mean it: the vegetal chaos was up past my waist in places, and I'm a tall guy. Part of her onion field had been subsumed, such that when she spotted a good-sized red bulb peeking its top up out of the ground, she exclaimed in surprise to have found it.
At one point, Liz's mother came out to meet us, asking where she should weed today. And after a moment's consideration, Liz shrugged and gestured all around, to indicate that any choice she made would certainly yield an improvement.
But the proof is in the results, right? And not in how we get to them. As she showed me around, Liz handed me a tomato, a ground cherry, and a lemon cucumber. All of them were delicious — filled with flavors as intense as any I've had in the region. That intensity is in part the result of her irrigation situation, she explained. Less water leads to hardier plants and more concentration of taste.
And then to take home, she handed me a bulb of garlic and a bag of potatoes. The garlic, of the same variety she'd been passing around at the fundraiser, smelled rich and complex and strongly enough that, by the time I made it back to Philly, it had re-scented my car; while the potatoes — three varieties in all — ended up as part of one of the better batches of roasted root vegetables that Sarah has ever produced. Each variety tasted distinctive, and none of them tasted like dirt (which is a common problem, I find, especially with the blue ones).
Before I left the Wagner Farmstead and rushed home to develop my film, I asked Liz how it was that, despite coming out to support my co-op's farmers' market, she didn't end up selling there. It's a matter of logistics, mostly. Mine already had another small, chemical-free farmer lined up. Its timing conflicted with the one at South and Passyunk. And besides, she indicated, those other folks need her too.
So I'm sad that I don't get to buy Liz's produce every week, in the course of my usual farmers' market grazing. Even if I didn't already know her, and even if I didn't already know about the quality of her vegetables, her story — the fact that Wagner Farmstead is a small operation, just getting started, driven by a passion to produce something good — makes her exactly the sort of farmer who I love to support.
But I take heart. One of these days, Liz's stand might very well migrate somewhere closer to my home turf. And even if not: I very much doubt I've heard the last of her.
[If you want to know more about Farmer Liz or the Wagner Farmstead, you can check out her blog here. On it, you'll also find information about her CSA, and where you can get her produce in Philly and beyond.]
Update: Since I wrote this piece, there has been a change in venue. According to Liz, beginning Saturday, August 10, she will be selling at the East Falls Farmers' Market. For more information on times and locations, click here.
* Most soulful garlic on Earth is how Time Out New York described this particular variety of garlic, as it is grown on Keith's Farm.