Dear readers, I will be candid: I would really prefer to live some hundred years ago. I would settle for 80, even. Or 120. For all its benefits, including refrigeration, antibacterial agents, and your esteemed selves, the modern age lacks a certain cozy charm to be found now only between the yellowing pages of novels: scenes of tea and toast before the fire, embroidered slippers, long hours of novel-reading, acrostics, baked apples, baked eggs, floral wallpapers, lemon-scented barley-water, candied violets, kippered herring, crumpets, puddings in the nursery…. It is not perhaps surprising that my interest centers on foods, fabrics, and the fireside. I confess that I have tried to recreate that coziness in my modern life. I bake apples. I cook kippers. I light fires at the slightest chill. I rest my feet on an embroidered footstool, and the quantity of novels lying about suggests more leisure time than I actually possess.
If I were truly dedicated, I'd be writing this with a fountain pen – so, clearly, I don't go quite as far as I could. But this winter being as cold and as long as any harsh winter of a novelist's imagination, I decided to set myself to mastering baked eggs. I began the project at the end of October when the first chill in the air turned my thoughts once more to the firesides of the past, and it turned out to be a winter-long task.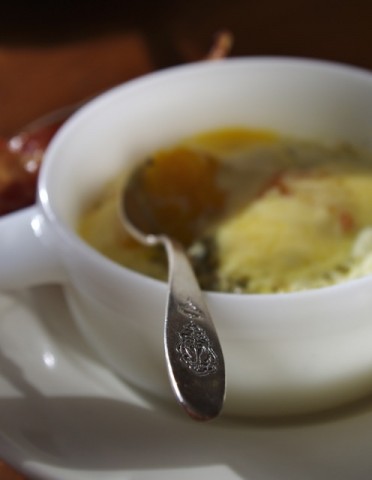 In the first place, there are a number of eggy endings to aim for: cooked through, runny in the middle, still soft on top. Your preferences may vary and you'll change your choices to suit them, but my goal was to cook the whites through (I have a horror of slimy, undercooked egg-white) and leave the yolks gloriously soft.
In the second place, you will find that there is quite a bit of advice out there on baked eggs: you will be told to bring the eggs to room temperature, to use a certain size of dish, to heat the oven anywhere between 325 and 425 degrees, to leave the eggs in it for anywhere from 8 to 18 minutes. I have tried it all, but I regret to inform you that you will still need to perform your own experiments: not only do preferences vary, but so do ovens.
Thus there is no specific recipe to share with you. Instead, I offer a technique.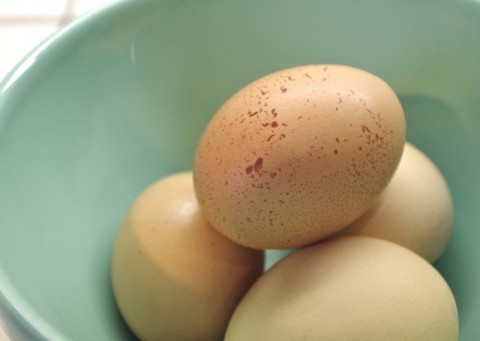 Begin by preheating your oven to 350 degrees. I find that a lower temperature cooks the yolks through while you wait for the whites to finish; a higher temperature cooks everything. But ovens vary.
Then select your ramekin. I have tried a variety of sizes and shapes, including large custard cups and those handled dishes for French onion soup. I maintained consistency by using glass dishes only; metal or ceramic ones will behave a bit differently. In the end, I found that a wider, shallower dish gives me the effect I want: the whites spread out and cook more quickly, while the proud yolks make little gelid hills, like so: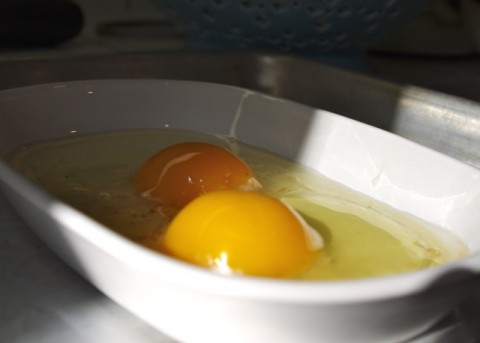 Put a pat of butter or bacon fat in the bottom of the ramekin, and slide it into the oven to preheat.
Next, make a selection of condiments. You can make baked eggs bare, and I have done so, but I prefer them gussied up for two reasons. One, if you are going to wait 15 minutes for an egg, it should be a fancy egg. Two, the addition of other elements to the dish affects cooking time.
Almost any little bit you find languishing in your refrigerator makes a good addition to eggs, of course.  The ends of cheeses, crumbled or shredded, will always work well.  Cooked mushrooms are especially tasty.  Diced or torn hams of any sort work better than tougher bacon.  Any kind of green, sautéed beforehand (just be sure it's not too wet), and if you are very lucky, a bit of Hollandaise on top. Leftover curries. Berbere sauce. Roasted peppers, or indeed any roasted vegetable.  Any sort of tomato-based sauce can most likely be turned to the purpose, or any cream sauce. I haven't yet tried sausage gravy with baked eggs, but I suspect that it would be delicious.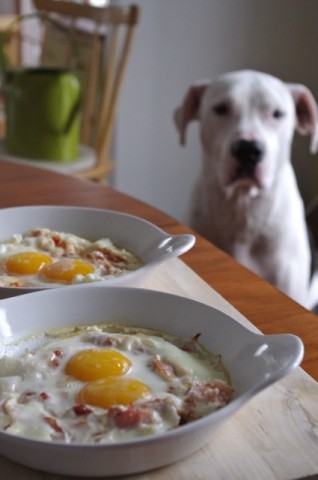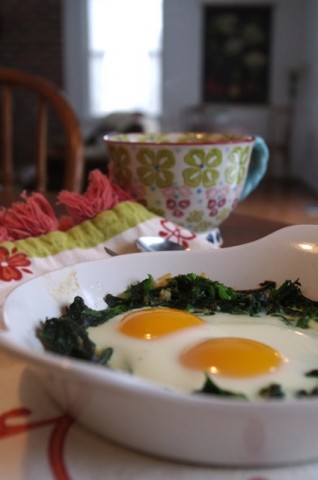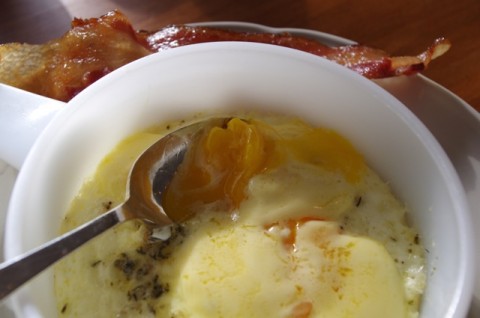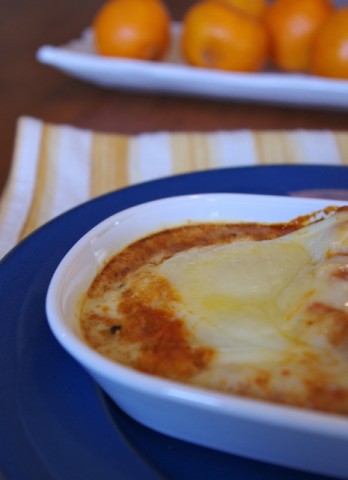 When you've chosen the accompaniments, get out the eggs. Decide whether you want your eggs on-a-bed-of or accompanied-by, and proceed accordingly. Crack two into each dish (or one, if your dish is small). If you wish, you can stir a little heavy cream through the whites. Then – this is the technique that I have found best produces the results I like – spoon some cold sauce or paste over the egg yolk. This will insulate it slightly and retard cooking. It will tend to slip off the yolk, but pile up what you can, and slide the dish gently into the oven.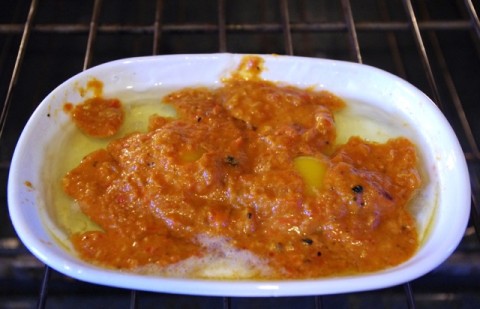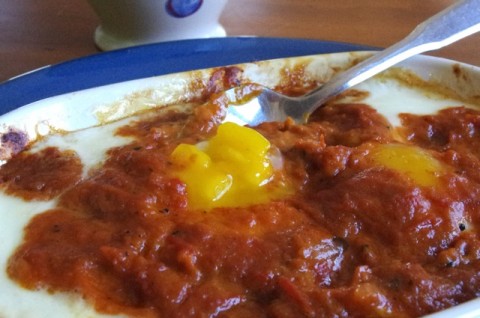 Set the timer for ten minutes only. If you've used a quantity of garnishes, the dish may take a minute or two more, but I have generally found that ten is sufficient in a shallow dish.
Now you have ten minutes in which to make toast soldiers and a cup of tea, and find an appropriate novel. When the baked eggs are done, eat them immediately, being careful not to drip yolk on your pages. Or your keyboard, as the case may be – perhaps there are compensations, after all, for life in the real and the present.