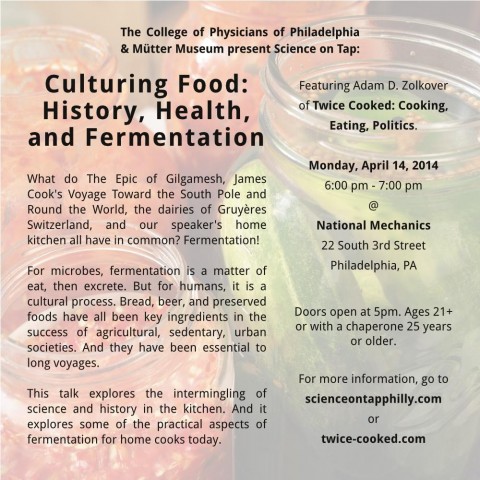 Don't forget, folks — this is happening on Monday, April 14, at 6PM. My talk at Science on Tap.  If you're in Philly, and if you're around, come on out to the National Mechanics bar on South 3rd St. to hear me talk about fermentation as a science and a technology.  There will be pickles!  There will be bread!  There's going to be a healthy dose of The Epic of Gilgamesh, and even a little bit of the Bible thrown in for good measure!
(I can talk about the Bible in a science lecture, right?  That won't get me thrown off the stage?)
Anyway: the talk is free.  The bar is great.  You'll need to pay for your food and drinks, but National Mechanics does all that stuff super well.
If you come by, say hello.  I'd love to meet you.