This should come as a surprise to no one who has ever been there, but I'm going to say it anyway: hands down, New Orleans in my favorite food town in the United States. It exists at the cultural convergence of French, Italian, and down home Southern foodways. It draws on the best of Creole, Cajun, and Caribbean cuisine. In the past ten years, it has developed a strong link to Southeast Asia. And all of that while sitting on top of some of the best seafood on the continent.
It's hard not to love New Orleans cooking, and when Sarah and I were down there last month — roadtripping and visiting my (too often neglected) family — we both fell in love with the food all over again. The fine dining, of course, is great. But we mostly went to in the other direction: po' boy shops for fried oyster sandwiches (dressed); Mandina's for trout almandines, sherried turtle soup, and crab parts buried in garlic and butter; into the French Quarter for raw oysters; and then out into (as far as I could figure) the middle of nowhere for some of the best phở I've ever eaten.
Both of us ate well past the point of what's sensible — which itself seems pretty sensible when your time in New Orleans is limited. And we kept on eating pretty much until a friend with whom we had lunch one day suggested a bloody mary. And then — performing simultaneous assessments of what had (and had not) been represented on our plates so far — Sarah and I were both all like: oh-my-god-yes-please-VEGETABLE!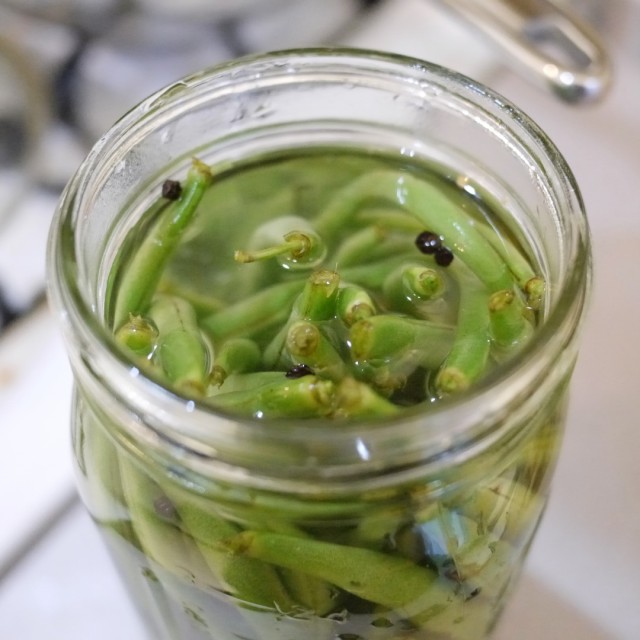 I suppose it's a matter of perspective whether drinking one's serving of vegetables with a generous helping of vodka may be counted among New Orleans' many culinary virtues.
But for me: yes please!
I do, in all seriousness, love a good bloody mary. And not only were the bloody maries we had in New Orleans an essential source of vitamins and minerals — in good New Orleans fashion, they were also delicious.
What these drinks did that made them particularly savory and delightful was do away with the celery. They jazzed up the tomato juice with horseradish, hot sauce, worcestershire, and all manner of other goodies. And then they replaced the boring vegetal swizzle stick with three or four pickled green beans. And it's the green beans that made it work.
Now I'm obsessed. Now that I'm back in Philadelphia, I want nothing more than to reproduce those lovely bloody maries as a treat for weekend brunch, or lunch, or (though I recognize that it's nontraditional) to serve with the evening meal.
But I also want to do it on my own terms. Which means that my plan — duh! — is to take all the flavors that I so enjoyed and turn them into a lacto-fermented feast.
So the future (dear readers!) may hold a post about spicy fermented tomato juice. That will take more research. But as for the present, may I present you with this week's experiment: lacto-fermented green beans.
These little guys are delicious. Themselves a little spicy, definitely sour, and infused with lots and lots of garlic. The green beans we had in New Orleans were actually vinegar pickles. But I figure that if the goal of the bloody mary is to get some nutrition even while you're getting your drink on: lacto-fermented green beans are better.
And these are, if I may say, pretty darn good pickles. I haven't tried them in a drink yet, but for snacking, or for salads, or as a side for a sandwich, they make their presence known in the best possible way. They're great, even if you don't like the tomato-vodka beverage that they will inevitably garnish. And they're super easy. So you have no excuse not to whip up a batch today!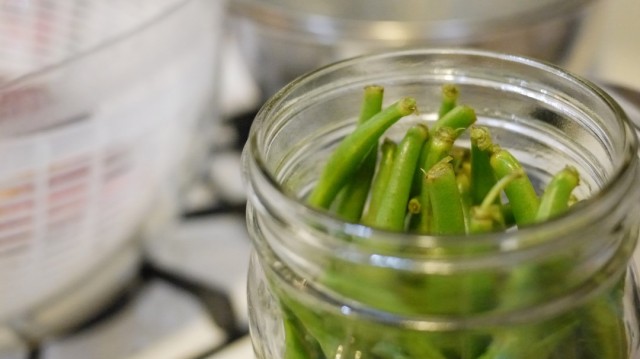 Lacto-Fermented Green Beans
1 generous pint Green Beans
1 quart Brine (4 cups of filtered water + 2 tbsp sea salt boiled together then allowed to cool)
Half a Head of Garlic, skin on, roughly chopped
4 Dried Thai Peppers (or any other dried hot pepper)
2 Bay Leaves
1 tsp Mustard Seed
About a dozen Whole Black Peppercorns
Make your brine and set it aside to cool. Thoroughly wash a quart jar and lid, and set them aside, too. Then, once the brine has cooled, wash the green beans and trim the stems close while keeping the beans themselves as intact as possible.
To your jar, add the garlic and spices. Closely pack the green beans vertically into the jar. Then pour the brine over the green beans until they are entirely covered, screw the cap on loosely, and put them aside to ferment.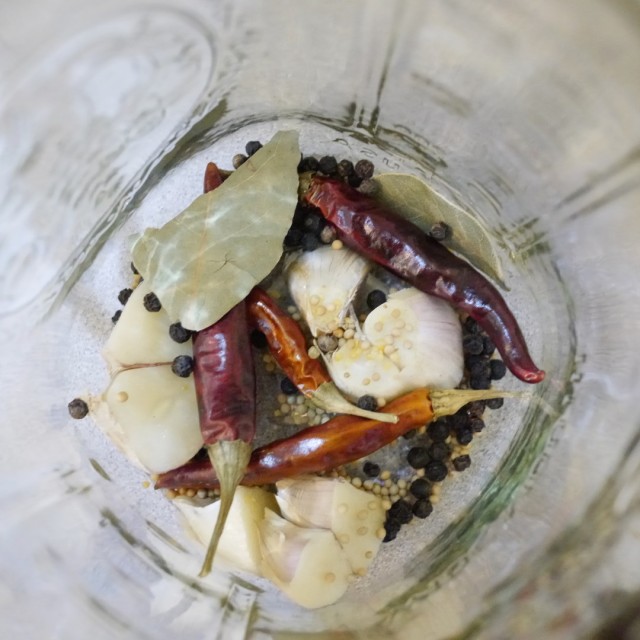 Every day, check on the green beans, skim off any foam that forms on the top, sniff, and perhaps taste to check on the progress of the fermentation. To prevent mold, both when you initially fill the jar and daily, make sure that the beans are completely submerged.
In seven to ten days, your lacto-fermented green beans should be perfectly sour, seasoned, and ready for duty in a bloody mary.