Indian breads, it seems, are bound to become a series on this blog.  Not that it's a surprise.  They're scrumptious, they're easy to make, and they've long been a favorite meal accompaniment — and utensil — of mine.  I don't have a tandoor (much to my lasting woe), but as I wrote in my Roti post, a super-hot skillet, and an open gas burner, will get you ninety percent of the way there.
Today's bread is Naan.  A standard of American Indian restaurants, it's something I've been toying with for a while, but I've been unwilling to give away the recipe because versions that I've made have not felt "Indian enough," or they have yielded doughs that are extraordinarily frustrating to work with, or both.  Inspired, however, by a friend who's been using me as a guinea pig to test out some curry recipes, I thought that I'd give Naan another try.  I did some research, converted a bunch of imprecise volume-based recipes into weight, and I think that I've come up with a formula that's good enough to share.
The optimum hydration level for naan, it seems, is about 70%.  Which means, in baker's terms, that for every unit of flour you add to your dough mixture, you must include 0.7 of a unit of liquid, whether water, or milk, or yogurt, or something else.  It's a little bit esoteric, I know.  But once you get used to it, working by baker's percentages make complex breads much, much easier to formulate.
For more info on baker's percentages, have a look here.  Though understanding the math of it isn't actually all that important.  Really, having a good kitchen scale is what matters for this recipe (and for almost any of the breads I post here).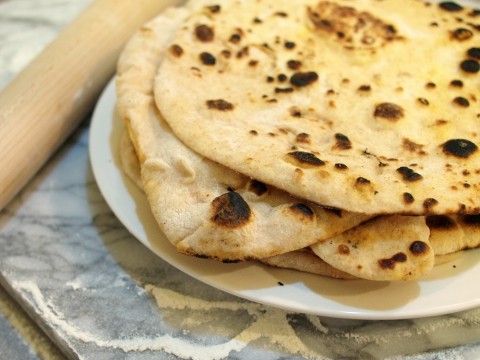 250 grams AP White Flour
100 grams Wheat Flour
135 grams Yogurt
120 grams Water
10 grams Oil (or melted butter)
1 tablespoon Granulated Sugar
1 teaspoon Salt
1/2 teaspoon Rapid-Rise Yeast
You can do this by hand, but it's a sticky job, so I'd recommend using a stand mixer …
Add all the ingredients to your bowl, and let the stand mixer do its thing on low.  Once your mixture comes together into a dough, bring it up to low-medium, and let it knead for about ten minutes.  When the dough has smoothed in texture and become elastic, form it into a ball, place it in an oiled bowl, cover with plastic wrap (or a pot lid), and allow to rise for four hours.
At the end of the four hours, heat a cast iron skillet on high, and turn a second burner to high as well.  Turn your dough out onto a floured board, punch it down just a little, form it into something resembling an even rectangle, and use a knife (or optimally, a dough scraper) to divide it into six even pieces.
One at a time, use a rolling pin to roll each ball into a thin, teardrop-shaped sheet.  Spray a little bit of oil onto the cast iron pan, and cook each naan for about one minute per side.  Then flip each naan onto the open burner.  Leave it for about thirty seconds.  It should puff up, smoke, and start to burn.  When it does, flip it over, and leave it for another fifteen seconds or so.  Then remove to a towel-covered plate to keep warm.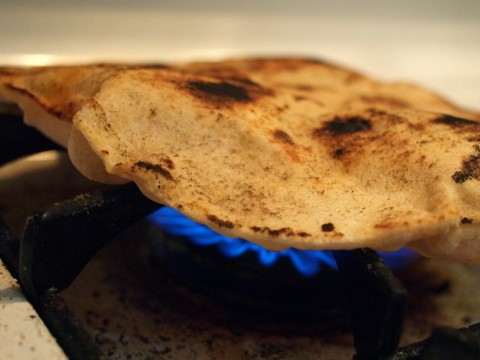 Optionally, for that rich, rich restaurant taste, when you're ready to serve, brush each piece of naan with a little bit of clarified butter (ghee).
This is, admittedly, more involved than making roti.  It takes some planning — and about a half hour in the middle of the day to make the dough and give it time to rise.  But the result is worth it — soft on the inside, crispy and slightly toasted on the outside, and the perfect accompaniment to homemade curry.