I can't say that I have much of a story to tell here. But I will offer a word of unsolicited advice.
Should you ever happen to go to a reputable restaurant, and should you, on the menu, ever happen to have a choice between a tender fillet mignon and an off-cut — a short rib, or an oxtail, or something of that ilk — always choose the off-cut. Steaks are a dime a dozen. But good braised beef, now. That's a meal to remember.
I'd like to tell you that it's a matter of opinion. But it's not. I'd like to tell you to take my advice with a grain of salt. But you shouldn't. Unless you have (for some inexplicable reason) ended up at a top-flight steakhouse, the off-cut will likely be more flavorful than the steak, and it will definitely be less boring.
Just make sure it's a reputable restaurant. Bad braises are bad.
4 Beef Short Ribs
3 cups Red Wine
2 Onions, sliced
2 Ribs of Celery, cubed
2 Medium Carrots, cubed
3 Bay Leaves
3 Cloves of Garlic, crushed
1 tbsp Crushed Red Pepper
1 tsp Thyme
1 tsp Thai Fish Sauce (or finely chopped anchovy)
Salt
Pepper
Olive Oil
Preheat your oven to 250F. On the stove, heat a dutch oven over medium-high heat, with a little bit of olive oil. Season the short ribs with salt. When the dutch oven is very hot, carefully place the short ribs inside, browning on every side for about three minutes. Then remove to a plate.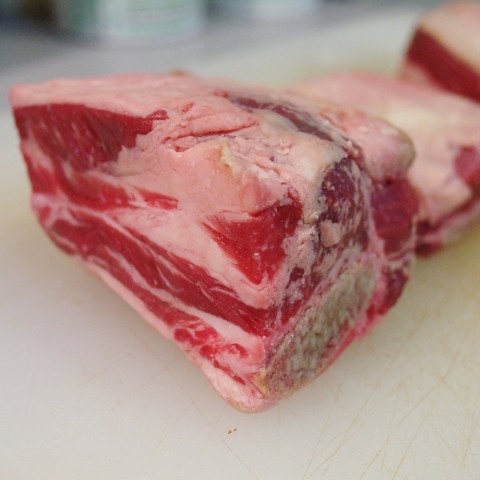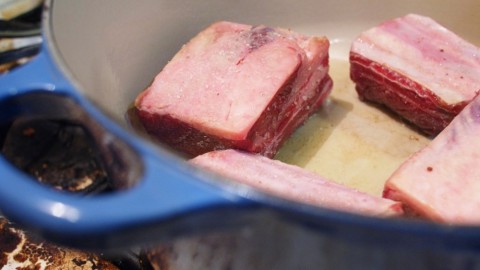 Turn the burner to medium. To the dutch oven, add the onions, celery, carrots, thyme, crushed red pepper, ground black pepper, and a little bit more salt, and cook until the onions start to brown. Then add the bay leaves and garlic, and cook for about two more minutes.
Return the short ribs to the dutch oven, nestling them down among the onions. Add wine (it should come a bit more than three quarters of the way up the sides of the ribs). As soon as it begins to simmer, place the top on the dutch oven, and put it in your pre-heated oven for three hours.
At the end of the three hours, remove the dutch oven from your oven, and remove the short ribs to a serving plate (be careful, they will want to fall apart). Strain the braising liquid into a second saucepan, add the fish sauce, and boil over high heat until the liquid has reduced by more than half.
Pour the liquid (now a sauce) over the short ribs. And serve, accompanied by rice or mashed potatoes.