What, with Thanksgiving coming up and all that, I've been making a lot of ice cream lately. First vanilla (because you can't properly have pie without vanilla ice cream) and then maple with pan-roasted pecan pieces (because something about that combination screams I'm for Thanksgiving!). I expect that some few of you out there would like the recipes for these luscious, creamy, indulgent delights. And I'd like to give them to you — I would. But I think that I won't. For two reasons. First, because the recipes belong to David Lebovitz, and clearly, if you want them, you should go buy his book. And second, because I kind of think that ice-cream leftovers is a more interesting topic.
The funny thing about ice cream is that each batch calls for somewhere between four and six egg yolks. Yolks. And that means that for each batch, you end up with a lot of leftover egg whites. Whites. Now, there are a few things you can do with egg whites. You could make egg-white omelets (*shudder*), or you could make an angel-food cake (complicated), or you could make a raft to clarify a consommé (huh?!). But it seems to me that there is only one thing that you might want to do with a bunch of leftover egg whites. You've got it right: meringues.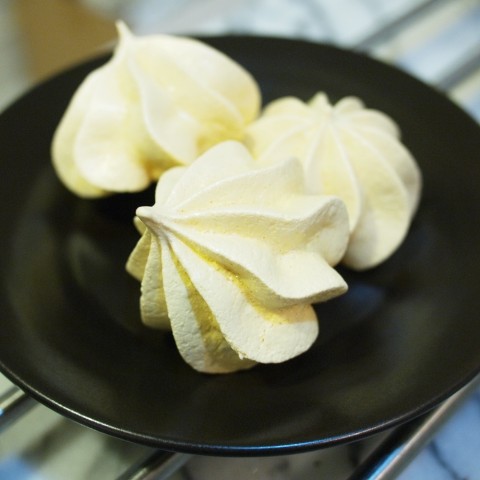 Meringues, French meringues, forgotten cookies, or whatever you want to call them, are addictive. They are crunchy, sweet, flavorful, fat-free (don't confuse this with good-for-you), and lighter-than-air. They fall somewhere in the spectrum between pastry and candy. If you're good at piping them, they are like tiny, gorgeous marble statues. And as it turns out, they are super easy to make.
Here's how.*
4 Egg Whites (at room temperature)
1 cup Confectioner's Sugar
3/4 cup Granulated Sugar
2 tsp Vanilla Extract (or almond, or Sambuca, or whatever)
3 tbsp Cocoa Powder (optional)
Exciting Food Coloring (optional)
Salt
Preheat your oven to 250F and line two cookie sheets with parchment. Prepare a pastry bag (wide, fluted pastry tips are helpful but unnecessary. A gallon ziplock bag with a hole cut at one end will do just fine) and set aside.
In the bowl of your stand mixer, add the egg whites and a pinch of salt, and with the whisk attachment, beat on high until foamy. Slowly, while the mixer is still going, add your granulated sugar. Then continue to beat until the whites form soft peaks.
At this point, slow the mixer to low-medium, and slowly add the confectioner's sugar, along with any flavorings (vanilla, chocolate, etc.) and / or food colorings. When all of this is well incorporated, bring the mixer back up to high, and beat until the meringue forms stiff peaks — until it stands straight up on the whisk.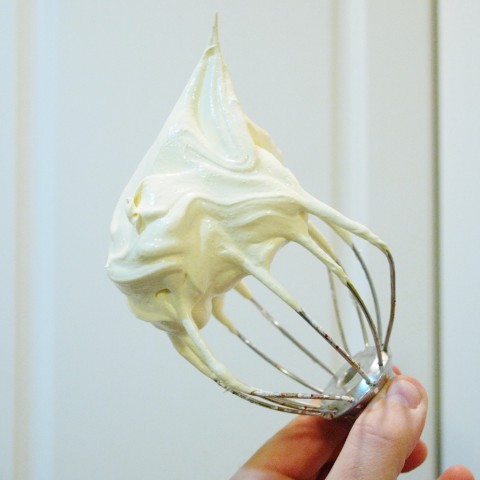 Spoon the finished meringue into your pastry bag, making sure that you leave enough headroom to be able to squeeze from the top of the bag, and then pipe buttons of meringue, at even intervals, onto the lined cookie sheets. It may take refilling the bag a couple of times to dispose of all the meringue. And don't worry about piping your meringues close together. If you've done this right, they won't really spread.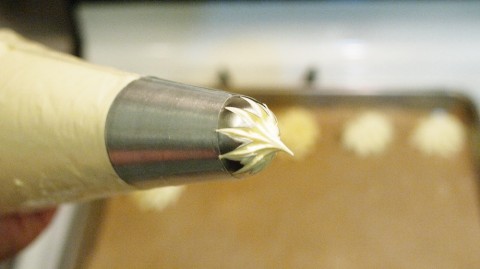 Place the cookie sheets with the meringues into your 250F oven for one hour and twenty minutes (or a bit longer if you've made bigger ones). Then, at the end of that time, turn off the oven and allow the meringues to sit inside, undisturbed, for at least two more hours, so that they can dry out.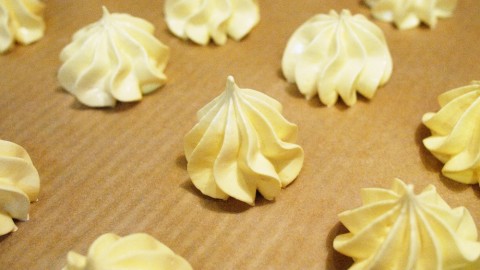 At the end of that time, you should have beautiful, statuesque cookies that you will know were easy, but that will be sure to impress your friends.
* This recipe is loosely adapted from one that can be found in Michel Roux's Eggs.