When is he going to make another post about collards?
I know, I know — that's the question that's been on all of your minds. You can't resist those broad leathery leaves, dark green in both look and smell. You can't resist that bitter taste, or that extensive history, or that big shiny 1000 on the ANDI scale.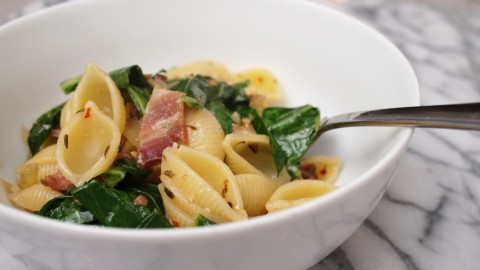 The answer, of course, is right now. I'm going to make another post about collards right now. And it's going to be a quick-and-dirty one. Because I'm headed out of town on an academic errand, and I have so very much to do before I leave.
So here it is — pasta with collards and bacon. This is a recipe, dear readers, that takes one of the finest foods ever imagined and … and adds some greens to it.
1 lb Extruded Pasta (I used shells this time, but I'm fond of this with ziti or gemelli, too)
1/2 lb Bacon, diced
2 Bunches of Collards, stemmed and chopped
2 Medium Onions, sliced
1 quart Mushrooms, sliced
5 Cloves of Garlic, minced
1 tsp Oregano
1 tsp Crushed Red Pepper
1/2 tsp Thyme
1/2 tsp Fennel Seeds
Parmesan Cheese
Pepper
Salt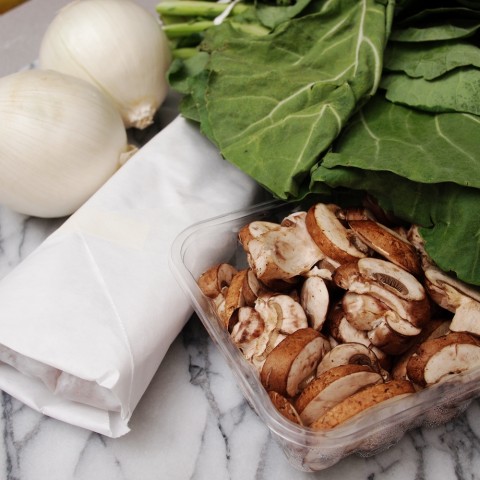 Fill an 8-quart pot with water, add ample salt, and set it on the stove to boil. Meanwhile, to a sauté pan over medium heat, add the diced bacon and allow to cook, stirring occasionally, until almost crispy. Then remove the bacon with a slotted spoon. To the leftover grease, add the sliced mushrooms, along with a little bit of salt, the thyme, the fennel seeds, and the red pepper flakes, and cook for about 5 minutes, just until the mushrooms start to brown. Then add the onions, along with a little bit more salt, and cook for about 20 minutes, until the onions have mostly softened.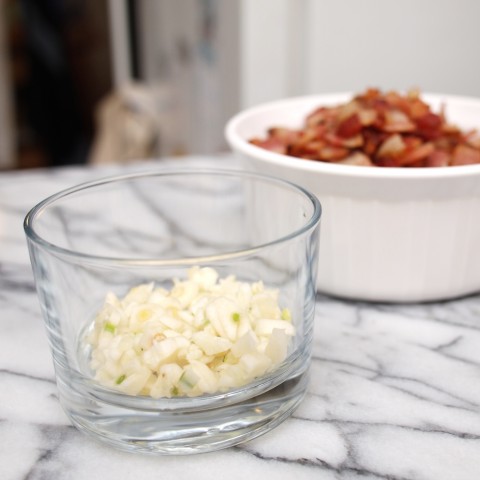 At this point, your pasta water should be boiling. To the sauté pan, add the minced garlic, the dried oregano, pepper to taste (I like about thirty turns of the grinder), and the cooked bacon. Cook for about five minutes, stirring constantly to make sure that the garlic does not burn. Then, add the chopped collard greens to the pan, closing the lid. And add your pasta to the boiling water.
As the greens begin to wilt, you're going to want to stir occasionally to mix them in with the rest of the ingredients. I have found that a good pair of tongs is best for doing this.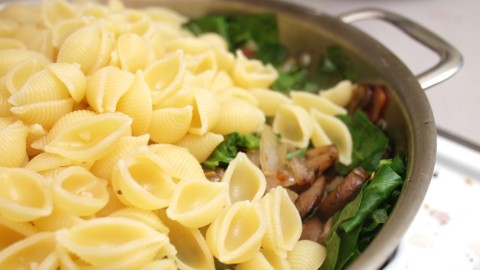 At the end of about ten minutes, when the pasta is al dente and the greens are cooked, drain the pasta (not too well. A little bit of pasta water does wonders for this dish!) and add it to the saute pan. Add the Parmesan cheese and a bit more salt and pepper (to taste), and mix thoroughly. Allow the entire dish to cook together for five more minutes, to allow the flavors to blend. And then serve while hot.
Enjoy!