Fair warning: this way leads to pasta with a cream sauce. If you object to considerable quantities of dairy fat, you may want to find a different food blog to read choose a healthier recipe from the queue — like this one for kale pesto. Alternately, you may want to leave the cream and nutmeg out, and use pasta water and / or white wine instead. You'll still get most of the effect, but with a fraction of the calories.
At any rate, yesterday was my birthday. And this is what I made for myself. So — I say — if I want cream on my pasta, I'll have it.
1 lb. Extruded Pasta (I prefer ziti, but you're allowed a different opinion on the matter.)
1 pint White Mushrooms, sliced
1 pint Shiitake Mushrooms, sliced
1 Medium Onion, sliced
1 cup Heavy Whipping Cream
1/2 lb Asparagus, cut into bite-sized pieces, with any woody ends discarded.
1/3 cup Grated Romano Cheese
4 cloves of Garlic, minced
1/2 tsp Dried Thyme
1/2 tsp Fennel Seed
1/4 tsp Whole Cumin Seed
1/8 tsp Ground Nutmeg (if you're fancy and want to grind it yourself, be my guest!)
Olive Oil
Crushed Red Pepper
Black Pepper, coarsely ground
Salt
Set a pot of salted pasta water to boil, and heat a sauté pan over a medium flame. Add the olive oil, onion, fennel and cumin seed, crushed red pepper, and just a sprinkle of salt, and cook for about five minutes, until the onion is just starting to soften. Then add the mushrooms, thyme, and a bit more salt, and cook for about twenty-five minutes, stirring occasionally, until the mushrooms are just about done.
At this point, add the extruded pasta to your boiling water, and stir vigorously to keep it from sticking together.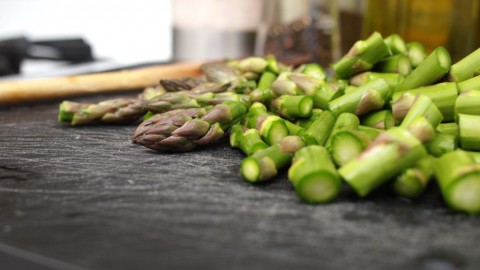 To the sauté pan, add the asparagus and garlic, and cook for eight more minutes. Then add the cream, Romano cheese, nutmeg, and black pepper, and mix together thoroughly. At this point, you'll want to season the sauce one more time, keeping in mind that cream dulls the flavors of other ingredients (in other words, you'll need more salt than you think).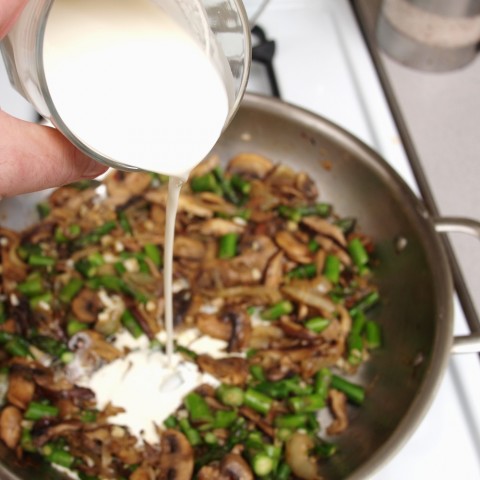 When the pasta is cooked, drain it and tip it into the sauté pan with the sauce. Mix thoroughly, and cook together for three to five more minutes, to give the flavors a chance to meld.
Serve hot, accompanied by a little bit more grated cheese.