Lets say for a moment — just as a hypothetical — that your in-laws have called an emergency potluck. In just two days! You have a bunch of these hanging out in your refrigerator:
And you've been tasked — to your great horror — of bringing a bunch of these: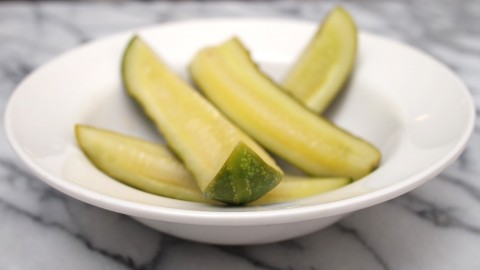 What do you do?!
Well — it seems to me that you have a couple of options, here. The first choice is to go the traditional canning route. This is what my friend Linda would do. And she does indeed make a mean pickle — shockingly piquant, sweet from dill, and just a little bit rich. But while her pickles are great and all — and while they are definitely an inspiration to me — canning can seem more like a burden than a joy. Plus — realistically — it takes at least a week for the brine to do its thing. And have I mentioned:
You have just two days!!!
Worry not. Take a deep breath; hold it; and let it out. There is another option. It's a lazy option. A quick option. An almost-as-good-as-traditional canning option. And it's what I've done here: refrigerator pickles. With fifteen minutes of work up front, and about forty-eight hours in the refrigerator, you can be on your way to this onerous family obligation, happily skipping down the road, and whistling jauntily as you go.
Yes, folks. These pickles are that much of a breeze. And this is how you do them:
5 Pickling Cucumbers, quartered into spears
1.25 cups Water
.75 cups White Vinegar
5 Cloves of Garlic, crushed
3 Bay Leaves
1 tbsp Salt
1 tbsp Granulated Sugar
1 tsp Coriander Seeds
1 tsp Mustard Seeds
1 tsp Crushed Red Pepper Flakes
1 tsp Black Peppercorns
.5 tsp Fenugreek Seed (or celery seed if that's what you have)
Heat the water, vinegar, salt, and sugar in a small saucepan, stirring until the solids dissolve. Remove from the heat and set aside.
To a one quart container (I used a re-purposed take-out soup container, but a mason jar may be better), add the remainder of the herbs and spices. On top of them, loosely pack the cucumber spears in vertically (if some don't fit, don't force them).
Fill the container with your liquid, making sure that the cucumbers are submerged. Close the lid; shake to distribute the flavorings evenly (and ensure that the cucumbers are fully in contact with the brine); and refrigerate.
Your pickles should be ready in 48 hours. And they should be good in the fridge for a month.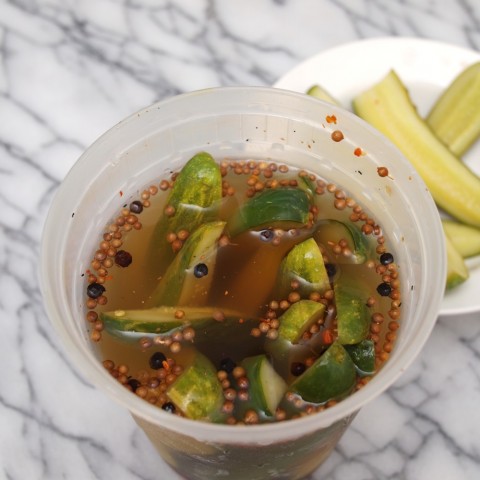 Enjoy!