Today's experiment comes courtesy of the quarter of a pig I bought a while back from my CSA. Apparently, there has been a stray pork shoulder roast, sitting sad and neglected, almost entirely forgotten, in the back of my freezer for a couple of months now. And it has taken my mad drive to organize that space — to make room to freeze my ice cream maker — for me to find it.
I can't claim credit for the recipe — or at least not entirely. It is inspired by a pork roast that my friend Linda makes, which she apparently got from something Mark Bittman did in the New York Times in 2008. Bittman calls it pernil, says it's Puerto Rican style pork. But at this point, at least thrice removed from Puerto Rico and much modified every step of the way, I would be hesitant to make the same claim.
My version is simpler than Bittman's. I forego some of the spices he prescribes — the cumin and the chili powder — in favor of a flavor profile that strikes me as almost Mediterranean: the garlic, oregano, and lemon juice that are so central to, say, Greek cuisine.
My version is also more time-consuming, however. Unlike Bittman, I marinate my pork before cooking — I think you get more flavor penetration that way. And unlike him, my goal is not to cook the pork until it falls apart. My version requires keeping track of the internal temperature of the meat such that it cooks, slow and low, only until it is just barely pink in the middle. No longer.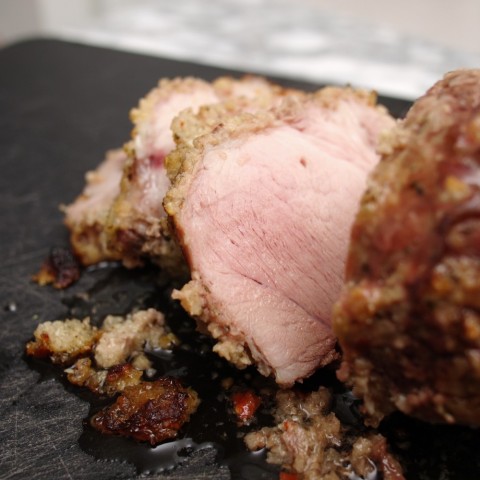 Having, over the years, eaten both versions of this recipe, I have to say: while I really like Bittman's — while I think it's tender and tasty and entirely lovely — for a piece of really good, fresh-and-local pork, I like my method better. I would say that my version highlights (rather than masks) the flavor of the meat itself.  And for a better-than-average piece of pig — and especially for a cut that has a lot of flavor on its own — that is of particular importance.
2-3 lb. Bone-In Pork Shoulder Roast
2 Onions
10 Cloves of Garlic
3-4 Dried Hot Peppers
2 tbsp Oregano
Juice of 2 Lemons
Olive Oil
Salt
Pepper
To make the marinade, add the onions, garlic, peppers, oregano, olive oil, and the juice of one lemon to the work bowl of your food processor. Season liberally with salt and pepper, and puree.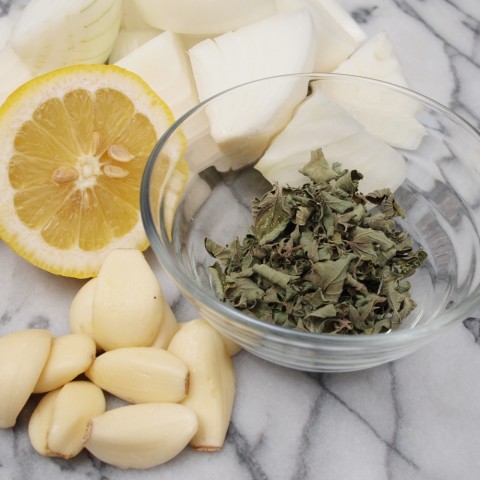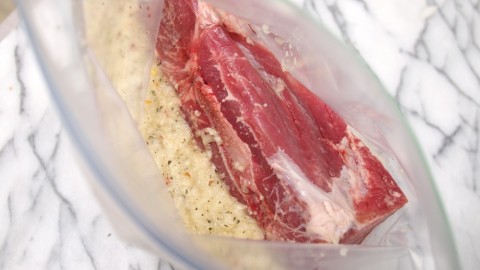 Place the pork shoulder roast in a one-gallon ziplock bag. Pour in the marinade, expel any excess air from the bag, seal, and agitate the bag such that the entire pork roast is immersed. Then refrigerate for at least six hours.
At the end of that time, preheat your oven to 275F. Evacuate the entire contents of the ziplock bag — pork, marinade, and all — to a small roasting pan. Insert a probe thermometer into the deepest part of the meat (but don't let it touch the bone!), and roast until the internal temperature of the pork reaches 135F (about two hours). Then — turn the oven up to 450F, and continue roasting until the pork is done (I prefer 155F — just slightly pink — though according to the USDA, 145F is safe).
Remove the roasting pan from the oven, and the pork from the roasting pan; allow the meat to rest, loosely covered, for at least twenty minutes before carving.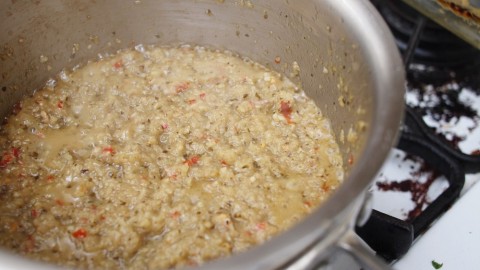 In the meantime, scrape the pan drippings into a two-quart saucepan. Add the juice of the other lemon, and cook over high heat, stirring occasionally until almost all the liquid has evaporated and you have what looks like a chunky paste.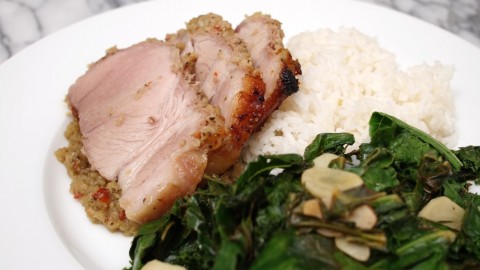 To serve, spread about a tablespoon of the paste onto each plate. Over that, lay two to three thin slices of pork, along with a carb (I prefer rice, but couscous is nice, too) and a green (collards and pork are classic!).
Enjoy!