It's strangely appropriate, I thought as I was roasting pumpkins, that the making of this soup has required something borrowed (vegetable stock) and something blue (my good old trusty Dutch oven). After all, the reason why I am able to plan ahead this year — the reason why I am able to offer you some Thanksgiving recipes before Thanksgiving — is that this year's edition of the Feast of Ungainly Birds is otherwise occupied. By a wedding.
Dear friend and Twice-Cooked contributor Beth is getting hitched to her equally fabulous partner Brad. And while (of course!) I am excited to go celebrate with them, I am excited, too, that it gives me the opportunity to offer you all some Thanksgiving favorites (and some Thanksgiving experiments) on a timeline where you might be able to use them.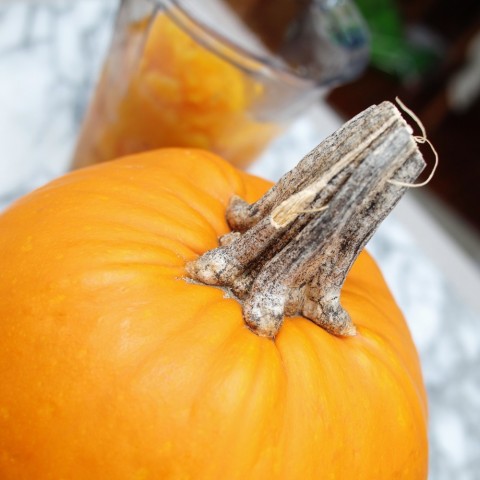 This recipe, I would say, falls somewhere between the "favorites" and the "experiments" category of feastful cooking. Deep in the annals of this blog — somewhere in the dark prehistory of my Livejournal days — there dwells a similar recipe for a pork-based squash soup. That one is a perennial favorite. It's something I've made for Thanksgivings past, and something on which my guests have supped (not to be too dramatic about it) with particular relish.
So well has that soup been received that I might have just pointed you all toward it — or perhaps reposted it with pictures. Except that I've been thinking lately about another guest post — by the superlative Sharyn — about the crisitunity (link to video) that is being a vegan during the holidays (Sharyn: I know that you in particular will appreciate 'crisitunity'). The vegan holiday conundrum, as she so eloquently writes, is in the question of how to maintain one's dietary restrictions while still finding foods one can share with friends and family.
This soup, I have found, lends itself well to a vegan formulation. It is most definitely shareable. And so it is in that spirit that I offer it.
No — alas, dear carnivores! — it isn't that I've hidden some animal bits somewhere deep within. There is no bacon fat, no chicken stock, no cheese, nor even milk or cream. This soup is all veg, all the way down.
But at the same time, this soup has all the savor you could want. It is, thanks to its coconut heritage, thick and rich and creamy; it has some ginger-cumin complexity, and a fair heaping helping of umami, thanks to the shallots and the Bragg's Aminos. It's a soup that screams Thanksgiving! Not vegan! And yet — and yet it's a soup that's safe for everyone at the table to sip. Or sup.
I know that there are some of you for whom the vegan moniker will be a turn-off. I know that some few of you who don't blow by this post entirely will be tempted to click through to the older, porkier recipe. But I implore you: don't.
This squash soup hits just about all the right buttons for vegans and non-vegans alike. And no matter who will be at your Thanksgiving table, it will undoubtedly make a worthy addition to the meal.
4.5 cups Pumpkin Glop (about a sugar pumpkin and a half)*
3 cups Vegetable Stock
1.5 cups Coconut Milk (one can is about right)
4 Shallots, minced
2 Cloves of Garlic, Minced
1 tbsp Bragg's Liquid Aminos (or soy sauce)
2 tsp Toasted Sesame Oil (plus a little for drizzling)
1 tsp Cumin Seed
1 tsp Ground Turmeric
1 tsp Ground Ginger
1 tsp Cinnamon
.5 tsp Garam Masala
Olive Oil
Salt
Pepper
Over a medium burner, heat a dutch oven or other heavy-bottomed pot. Add olive oil, and when it is hot, add your cumin seed, turmeric, shallots, and a little salt, and cook until the shallots are transparent and the cumin is fragrant. Then add the garlic, and cook until it just starts to brown.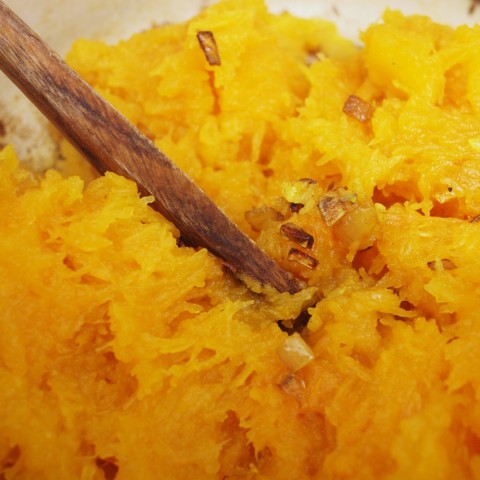 When the garlic has begun to brown, add the pumpkin glop, ginger, cinnamon, garam masala, and a liberal grind of pepper. Mix well, and cook until the pumpkin is heated all the way through. Then add the stock, Liquid Aminos, and coconut milk, and blend thoroughly with a stick blender.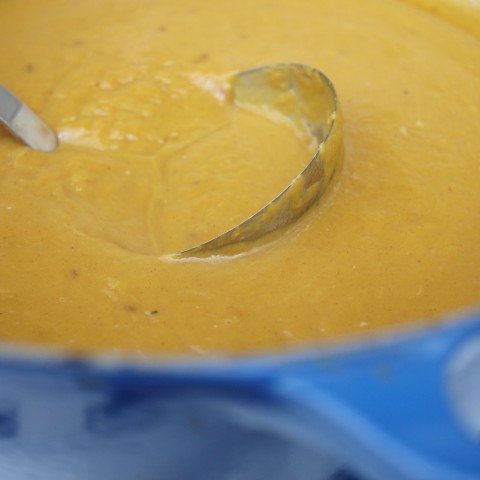 Allow the soup to come to a boil. Season to taste with salt, and then simmer it for about twenty minutes. At this point, depending on the sweetness of your particular pumpkins, you may want to add a tablespoon of sugar. If you are concerned about lumps in your soup, you may also want to pass it through a sieve (but I don't bother).
To serve, ladle your hot soup into a heated mug or bowl. Garnish with a drizzle of toasted sesame oil, and — optionally — a couple of toasted walnut halves.
Enjoy!
* To produce your own pumpkin glop, halve and gut your pumpkins, then roast them, facedown on a cookie sheet, for an hour in a 400F oven. Remove from the oven and allow them to cool. Then scoop their meat out into a bowl.