Riddle me this, dear readers: what's the worst thing about making a butternut squash?
It's not the taste, obviously. Butternut squash is sweet and savory and delicious. It caramelizes in the oven, lending it a complex smoky flavor that's a little bit pumpkin on the surface, with a bubbling current of applewood smoked bacon — and maybe maple — somewhere down below. I'd venture to assert that many of the best pumpkin pies are in fact done in butternut squash. And the best pumpkin soups, too. The only problem with them is … is …
By Jove! I think I've got the answer!
The worst thing about making a butternut squash is having to peel it! And this week's experiment solves that problem, too.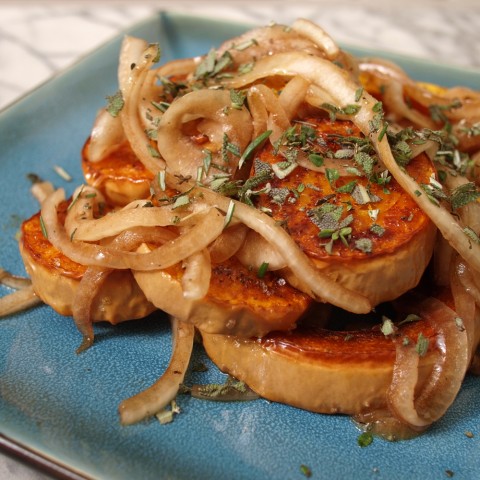 That's right, folks. This recipe is notable among the many, many roasted butternut formulations out there because there is no need to peel, before or after it hits the oven. And because the squash skin gets so nice and crispy, and so full of flavor, that you'll want to eat it, right along with the flesh.
In this recipe, there's no need to attack your awkwardly shaped cucurbit with a woefully unsuitable peeler, or a dangerous paring knife. It's enough to cut it into rounds, extricate the seeds, and roast.
But that's not all. The really clever bit about this week's experiment is that it's a side-dish and a salad, all rolled into one. The almost overwhelming richness of the squash is paired with the crisp acidity of balsamic-marinated onions, offering a balance that counters that sometimes heavy, post-squash feeling.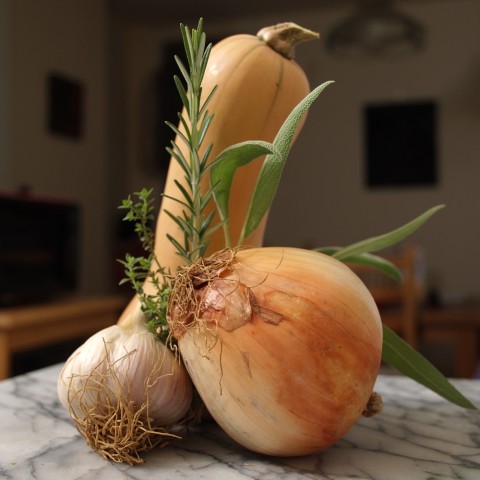 This is a recipe that I've been making for a very long time. And try as I might, I haven't been able to recall where I got the idea. For the sake of full disclosure, I'd like to state for the record that it probably started life as something I saw on another blog, or maybe on the TV.
Still, roasted butternut rounds with marinated onions has become a tradition in my house in the late summer when the squash starts coming in, and all the way through the cold and dark of the winter. And without reserve, it's a tradition that I would recommend to all of you.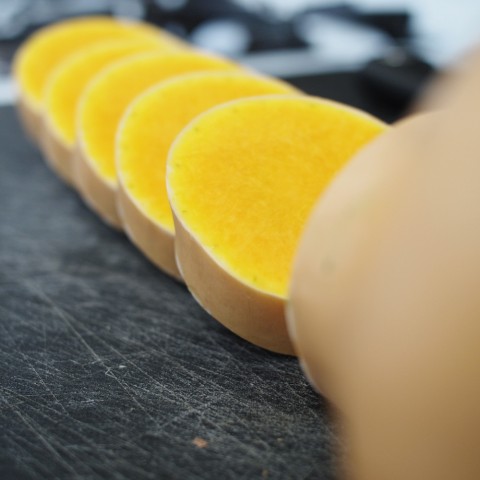 1 Butternut Squash, sliced into half-inch wide rounds
1 Medium Onion, sliced into thin rings
2 Cloves of Garlic, minced
Fresh Thyme, Rosemary, and Sage
Balsamic Vinegar
Olive Oil
Pepper
Salt
At least eight hours before you plan to roast the squash, add the sliced onions and garlic to a small bowl. Toss with olive oil, balsamic vinegar, salt, and pepper. Then cover and marinate in the refrigerator.
Preheat your oven to 400F, and arrange the butternut squash rounds on a jellyroll pan lubricated with olive oil. Rub the tops of the rounds with a little bit of additional oil. Season with salt and pepper. And roast for 45 minutes, or until the tip of a knife can pass through their middle without resistance.
While the butternut squash rounds are roasting, remove the marinated onions from the refrigerator to allow them to come to room temperature. Mince your fresh thyme, rosemary, and sage.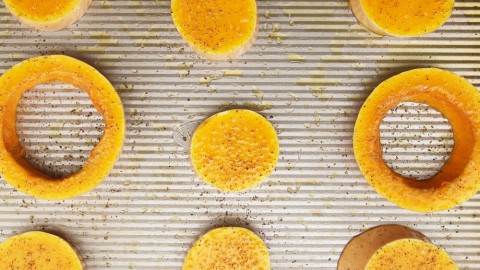 When the squash is done, on a serving platter, spread a scant layer of marinated onions. Arrange the roasted rounds on top. And then top with more onions, and the fresh-chopped herbs.
Depending on the size of your squash and your enthusiasm for onions, you may not end up using all the marinated rings. Extras are delicious on hamburgers or sandwiches, or in salads.