This is a recipe that I've been meaning to share for months. I had planned, in fact, to include it in my post about Madeira wine and the sea back in November. But then that post got too long with all its history and its drinking recommendations. And then the research involved in it tired me out on delicious nautical wines for a while. And then one thing led to another and — oh, look at that! — it's almost February.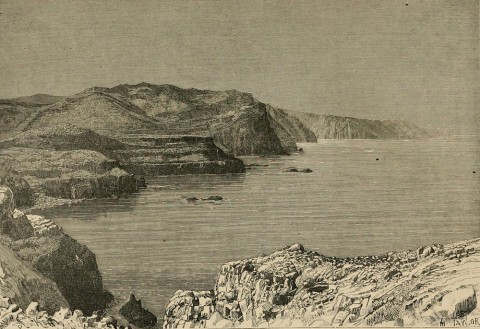 But please don't take my tardiness on the Madeira braised chicken front to mean that I don't absolutely adore it. That would be the exact opposite of the truth. And if you were to pass over this recipe just because it was a long time coming, it would make me — personally — very sad for you. Because this is, I think, the single best chicken recipe I've posted here at Twice Cooked.
It's delicious. I don't want to toot my own horn, but there you have it. It is savory and sweet, with the complex toffee, prune, and oxidation flavors of the wine permeating the mushrooms and the chicken, not to mention the rice or bread or fingers you use to mop up the sauce when you're done.
Really, what it tastes like is the world of old-fashioned French cuisine. Not the sort that relies on reductions for sauces, or that comes in tiny portions in many courses on square plates. But instead, the kind of French cuisine that Auguste Escoffier writes about in Le guide culinaire
. The kind where every sauce starts with flour and butter — whether as a roux or a beurre manié or something else — and where meals result in the men at the table loosening their belts a notch, and several of the more gluttonous guests dozing with their elbows in their plates.
It's not exactly a light dish, I suppose you might say. But it is eminently comfortable. And though I really do lament not having posted it before today, it's a dish that's perfect for right now. There is no more appropriate time for Madeira braised chicken's combination of ingredients — its richness and its warmth of flavor — than in the deepest part of winter (which looks, in terms of snowfall, to be just about to happen).
And have I mentioned it's easy?
The other thing that makes Madeira braised chicken such a treat is that it's actually kind of a weeknight meal. It involves very little in the way of prep work — in part, I suppose, because it involves just a couple of vegetables.
There's some time commitment involved with the browning and the waiting for it to come out of the oven. But if you were to start cooking at, say, five in the afternoon, dinner would be on the table by seven thirty. And most of the time in between could be spent doing other things around the house — or reading a newspaper.
There is nothing, I tell you, that I don't like about this recipe. So do give it a try, especially on a cold night, accompanied by a glass of wine. I have little doubt that it will make you as happy as it makes me.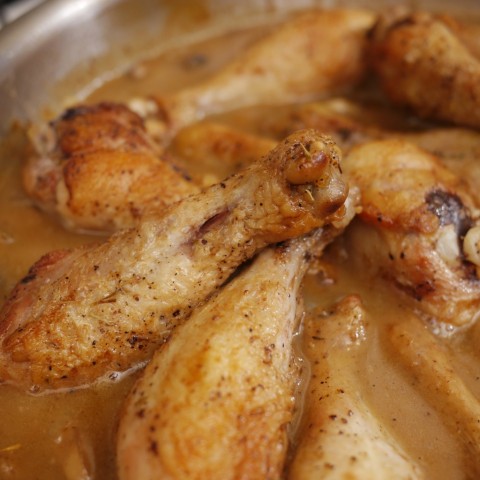 A dozen Chicken Legs (or a similar quantity of other dark-meat parts)
2 cups Rainwater Madeira (nothing very expensive — I'd recommend Broadbent)
1 pint White Mushrooms, sliced
1/2 onion, sliced
3 Cloves of Garlic, minced
2 tbsp Unsalted Butter
2 tbsp AP White Flour
1 tsp Dried Thyme
1/8 tsp Cayenne Pepper
Vegetable Oil (or duck fat, if you have any around)
Pepper
Salt
Preheat your oven to 350F. Season the chicken legs with salt and pepper. Add a generous measure of vegetable oil (or duck fat) to a large skillet or saute pan, and heat it over a medium-high flame.
When it is good and hot, brown the chicken legs all over (it should take three to five minutes between turns), and then set them aside. If they don't all easily fit in your pan all at once, please feel free to do this in shifts. The legs will come out better if they are not crowded.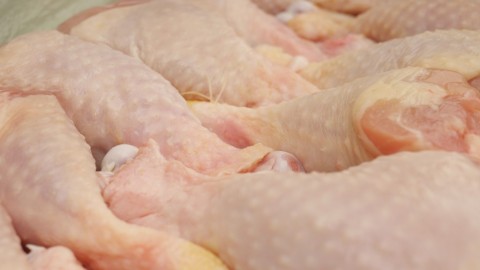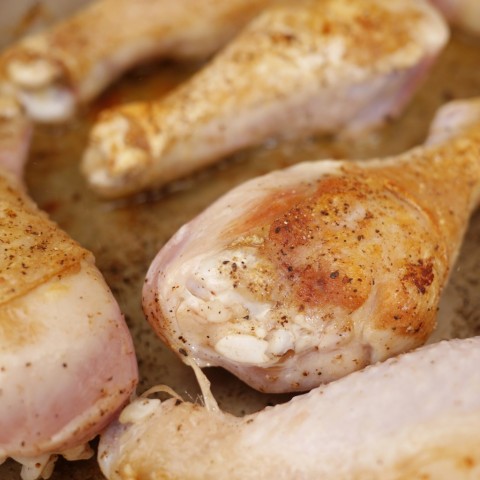 As soon as your legs are browned, turn the heat to medium and add the mushrooms, onions, and a pinch of salt to the pan. Saute until the onions are translucent and the mushrooms look about three quarters done, then add the garlic, thyme, cayenne pepper, and about thirty grinds of black pepper, and cook for two more minutes.
To this, add your Madeira wine. Allow it to come to a high simmer while stirring, then take it off the heat and reintroduce the chicken legs. As you do, remember that you don't want to submerge them completely. Their top halves should remain dry to facilitate at least some crisp skin.
With the chicken in place, put the whole thing in the oven, uncovered, for 45 minutes.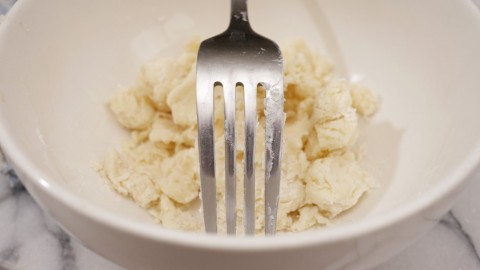 While it is baking, make a beurre manié by kneading together the flour and butter in a bowl. When it is done, remove the pan from the oven and the legs from the pan. Place pan itself with the sauce over a medium-high flame, and when it starts to come to a boil, stir in the beurre manié, whisking vigorously until it is all integrated and the sauce has thickened. Then cook for about three more minutes, to dissipate the raw flour taste.
Once again, add the chicken back to the sauce. Serve immediately over rice, with a generous helping of vegetables on the side.
Enjoy!