I like cherries. I like them a lot. They are, so far as I can tell, the smallest of the stone fruit — miniscule cousins to the plum, peach, apricot, and all those most cherished sweet flavors of summer. They are the harbingers and the advance guard of the season's coming in earnest, which — as any of you who are regular Twice Cooked readers already know — might actually count as a strike against them in my humble book. But their flavor is so intense, and so explosive when encapsulated in so compact a package, that it is difficult to think of them as other than bearers of the concentrated essence of all that is good in this too-hot season of the year.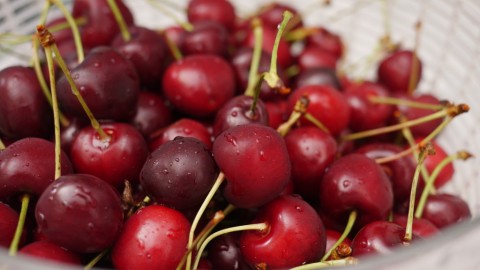 There are some classic, really fine cherry desserts out there. Clafoutis may be the most deserving of attention, with its delightful texture — somewhere between a custard and a cake — and whole cherries, unpitted, baked right in. The denizens of Limousin, the region in central France from which the dessert derives, say that the inclusion of the pits enriches the final product, perfuming the whole thing with a scent that is not unlike almonds. And they say (I would assume) that folks concerned about swallowing a pit or cracking a tooth should really be more careful.
But clafoutis aside, the range of cherry desserts worthy of mention is, if not mind-boggling, then at least mouth-watering. There's cherries jubilee, the flambéed concoction that was perhaps invented by French culinary luminary Auguste Escoffier, but was invented for a celebration of Queen Victoria's reign in either 1887 or 1897 (apparently, it is unclear). There's cherry compote, cherry ice cream, cherry jam cookies, chocolate covered cherries, and — of course — an old fashioned sundae with a cherry perched on top.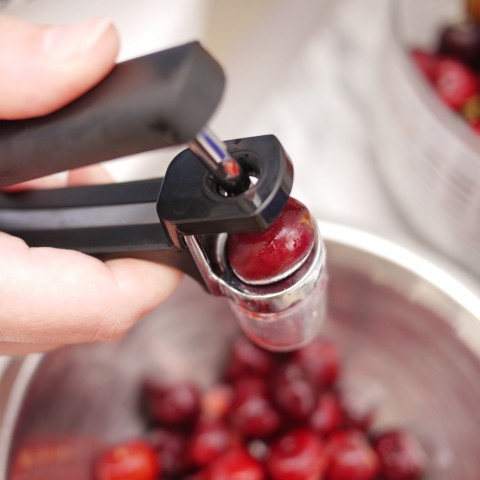 All of those things are good. Some are extraordinary, in fact. But it seems to me that at least once in a summer, when sweet cherries are first coming into season, before we become jaded to their innate culinary charms, it behooves us to brush aside elaborate preparations and turn our attention to something simple — something that says: I feature the fruit, not the cook.
The reigning standard in this category — usually made with the even more delicious sour cherry — is the good old American cherry pie. But having not quite enough cherries for a pie — and having cherries that are sweet — I have opted for something slightly different: a sweet cherry tart.
And that, dear friends, is the long and the short of this week's experiment. Like last week's strawberry shortcake, the point of the sweet cherry tart is that it eschews elaborate preparations and, really, anything that takes away from the flavor of the fruit itself. It asks you to pit the cherries, toss them with a little bit of sugar and acid, and then cook them atop a shortcrust pastry that serves not to bring a second flavor to the table at all, but simply to catch the cherries' juices as they try to escape.
That's it. Simple. Delicious. And a cinch to make. And when you go to serve the sweet cherry tart, I can assure you that nobody who sits at your table will ever think to themselves — boy, I wish I had some clafoutis instead.

Sweet Cherry Tart
1 Pie Crust (sweetened with 2 tbsp of sugar, held together with two egg yolks and one tbsp of water)
2 quarts Cherries, pitted
1/2 cup Granulated Sugar
1/2 cup Unbleached AP Flour (scant)
2 tbsp Confectioner's Sugar
Juice and Zest of 1 Lemon
Unsalted Butter
Pinch of Salt
Make a pie crust according to the directions in the
Twice Cooked Guide to Shortcrust Pastry
. Refrigerate until it can be easily worked; roll it out and press it into a tart pan (greasing first if your tart pan requires it); then blind bake the crust at 400F for 20 minutes.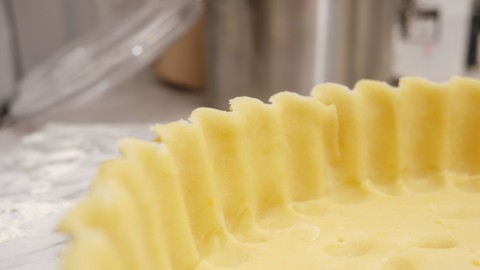 While the crust is baking, in a medium-sized work bowl, mix the pitted cherries, sugar, flour, lemon juice, lemon zest, and salt. Spoon the mixture into the crust, pressing it down if necessary to fit all the filling. Daub the top of the cherry tart with flecks of unsalted butter, and bake — still at 400F — for 40 minutes.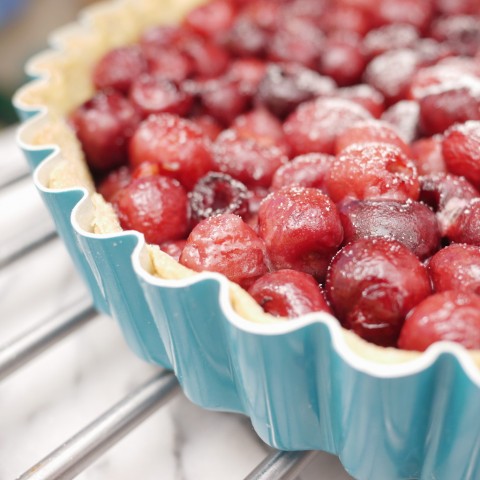 As soon as the cherry tart comes out of the oven, sift about two tablespoons of confectioner's sugar over the top and allow it to melt. It will give the tart a bit of a sheen.
Once it has cooled, remove the sweet cherry tart from its pan, onto a cutting board. Then carefully, with a sharp knife, divide it into eight even pieces.
Serve with copious whipped cream, and enjoy!