Anna N. Dhody is a human, female, successful propagator of half of her genetic material, and a bibliophile. She suffers from coulrophobia and arachnophobia (but only at the same time), and has a weakness for hedgehogs. When not cooking for her two boys (one offspring, one spousal) she is also the Director of the Mütter Institute and Curator of the Mütter Museum.
They are large, lurking, and, frankly, annoying. I speak of the oversized zucchini hiding in your vegetable patch. It seems like no matter how hard I look I always miss a few zucchini or I see a small one and figure I'll come back in a day or two and harvest it once it's just a little bigger. The next thing I know it is the size of a Louisville Slugger and I'm cursing the thing and looking up zucchini bread recipes.
Here's the thing: I'm not a huge fan of zucchini bread. But I thought that was the only thing these Godzilla squash were good for. And the texture and seeds do not lend themselves to my current favorite application: grilling with olive oil and serving alongside some halloumi and crusty bread (but that's another post).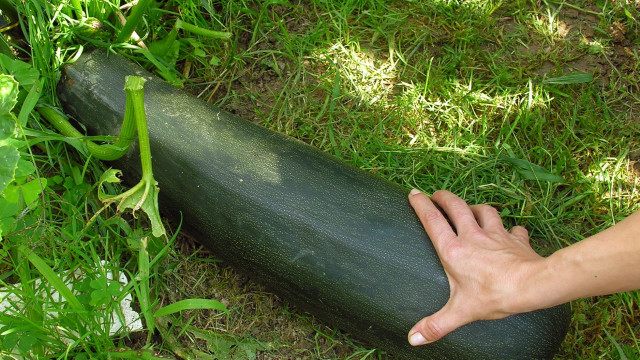 Last year I sent a plea out on Facebook to my friends, either take some of these green menaces or send me some recipes to deal with them. My friend and neighbor, Janice, sent me Jennie Cook's recipe for zucchini butter.
The recipe is simple and brilliant. I made a few changes; Jennie says you don't have to pre-salt the squash before you cook it, but if you use the atomic squash I highly recommend you do. I also strongly recommend you remove the seeds. They will be too big and their texture will not be pleasant in the zucchini butter.
I scaled the recipe up and used both zucchini and yellow summer squash. I estimate I had over ten pounds of squash total before I removed the seeds and maybe around seven pounds of shredded squash after I salted and drained it. I used the shredding attachment on my food processor and it took minutes to take down those Kaiju-ini.
You could use a hand grater, but if you have a food processor (or can borrow one) use it!

Zucchini Butter
Makes Approximately 8-9 cups.
Approximately ten pounds of zucchini and/or assorted summer squash
1 stick of unsalted butter
1/2 cup olive oil plus more if needed
4-5 large shallots, sliced very thinly
1 head garlic, minced
Kosher salt
Pepper
Prepare your squash by slicing it in half, lengthwise and removing the seeds. Shred the squash finely and place in a colander. Liberally sprinkle salt all over the squash. I used at least a tablespoon and a half, that sounds like a lot but you have a lot of squash! Work the salt into the squash with your hands, mixing it to incorporate the salt thoroughly and then let it sit in the colander for at least a half an hour. You can put a plate and a weight (such as a large can of tomatoes) on top of the squash to aid in the draining, or at the end of the hour, press down on the squash to squeeze out as much water as you can.
In a large Dutch oven (7+ quarts) or similarly sized pot, add the oil and butter, once the butter is melted add the shallots and garlic, cook the mixture for a few minutes, you do not need to brown it.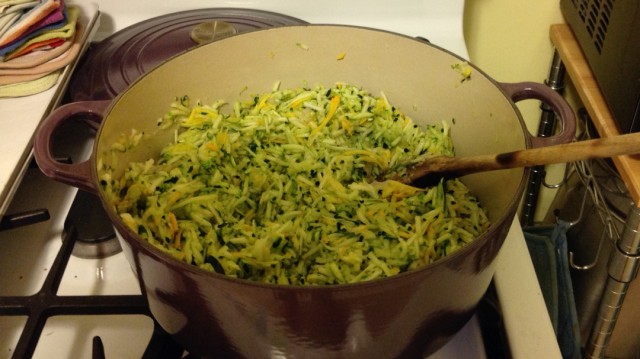 Add the shredded squash and cook over medium heat until the mixture has cooked down to a soft spreadable consistency. It took me about 30 minutes to achieve the texture I wanted. Add freshly ground pepper and taste. You may need to add more olive oil or butter to the squash if it seems like it is dry. You can also add some water. Try not to let the zucchini butter brown on the bottom too much. I was pretty diligent about stirring the pot every few minutes.
Taste often, and adjust your seasoning to taste.
A note about the name of this recipe: it is called zucchini butter but I don't think the final texture of the squash would qualify it as a butter. I like the squash to still have some structural integrity, yet be soft and almost creamy. It is more of a zucchini sauce or squash pesto. Whatever you decide to call it, you can do so many things with it. Here are a few suggestions:
Mix with some ricotta cheese and serve it with pasta.
Top some crostini with the squash and some shavings of parmesan.
Add it to a frittata or quiche.
Use it as a substitute for mayonnaise in a summer tomato sandwich.
Use it as a layer in a vegetable lasagna.
Zucchini butter also freezes extremely well so you can have a taste of summer all year long. This year I purposely let some of my zucchini hide out for a while. Once you taste this recipe, I think you might to.