I thought, since I didn't include a recipe with my last post, that I'd give you a quick one here.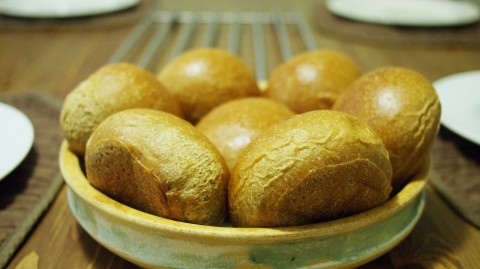 Dinner rolls aren't exactly sexy. They aren't exactly the height of culinary fashion, unless you have a group of friends who are really keen, say, on chicken tetrazzini, or macaroni salad, or casseroles laden with Campbell's Cream of Mushroom Soup. When I think of dinner rolls at all, I tend to think of them as white, as pasty, as soft of crust, and as gluey of crumb — the sort of bread that's good in a food fight, perhaps, but that is not particularly good for voluntary ingestion.
Why, then, did I make dinner rolls on Saturday? Because I had a two-year-old and a four-year-old coming to dinner, and I didn't know what else to do.
Neither Sarah nor I have had a lot of practice when it comes to kids. We have none of our own, and the number of our friends who both live in proximity and have children in this age group is almost nil. So when I found out that we were having dinner with the mommy-and-me set, I sort of panicked. I called my mother, figuring that once upon a time, she had known at least one two-to-four-year-old, and I asked her what kids like to eat (and whether they eat people-food at all).
My mother laughed at me. And then she told me that I should make spaghetti and meatballs, or something like that. You know, she told me: kid food.
I told her that I don't in fact know kid food. That's why I had called. I told her that Sarah had nixed the idea of my making chicken ballontine (which elicited a sigh of relief on her part). And I told her absent that, I didn't know what to do. Macaroni and cheese?
Yes, she told me. Make macaroni and cheese. The only potential problem she could think of is that the sort that my mother and I both like — the sort that she taught me to make when I was a kid — is the baked kind. And not every kid likes crusty cheese.
So I got off the phone with her, and decided that dinner would be macaroni for the kids, pork tenderloin for the grown-ups, a big salad, and … what the hell … dinner rolls. Because dinner rolls, for some reason, strike me as kid food.
Cook cook cook, bake bake bake.
Saturday evening comes around and so too do the kids. The two-year-old, it turns out, was happy to eat anything. She ate a little bit of pork, some mac and cheese, even some salad. But the four-year old? Four-year-olds are a little bit more discriminating. As in: this one, at least, didn't want to eat anything at all.
Her mother tried to induce her to eat the pork, but she'd have none of it. The macaroni? Repulsive! She sat there with her jaw clenched closed, apparently just in case any of us tried to slip some food past while she wasn't looking.
Finally, her mother gave up and asked her, Don't you at least want a piece of bread?
Yes! The four-year-old agreed willingly and scarfed it down.
Because apparently, my guess was right. Children do like dinner rolls.
To my own credit, my dinner rolls aren't exactly the pasty-gluey kind that give me such bad vibes. They are about 25% whole wheat, to give them some tooth. And they have just a dollop of molasses, to give them some tang. They're not just kid food, but also craft bread (of a sort). We've been eating the leftovers for a couple of days now, and while I don't really believe that they're going to transform the sallow dinner roll of my imagination into a star, I do believe that they are compellingly good. Good enough to make again, even if there aren't kids to feed them to. Good enough to share. Which is why I'm telling you about them here.
425g Unbleached AP Flour
370g Water
150g Whole Wheat Flour
50g Molasses
25g Gluten Flour
2 tsp Salt
1 tsp Diastatic Malt Extract
1/2 tsp Yeast
1 egg, beaten, plus a little bit of water
The Night Before: In the bowl of your stand mixer*, thoroughly combine the yeast, wheat flour, and 300g of the water, cover, and allow to stand at room temperature overnight.
The Day Of: Add the remainder of the ingredients (except for the egg) to the bowl. Using the kneading hook on the stand mixer, mix on low until the dough comes together, then increase the speed to low medium, and knead for about ten minutes until the dough changes texture, and looks smooth. Form into a ball, move to an oiled bowl, cover, and allow to rise for 2 hours and 30 minutes, until the dough has more than doubled.
At the end of the first rise, pre-heat your oven to 450F. Lightly punch down the dough, then divide into eight even pieces, and form each into a ball. Space evenly on a parchment-lined cookie sheet, cover loosely with plastic wrap, and allow to rise a second time for 1 hour and 10 minutes.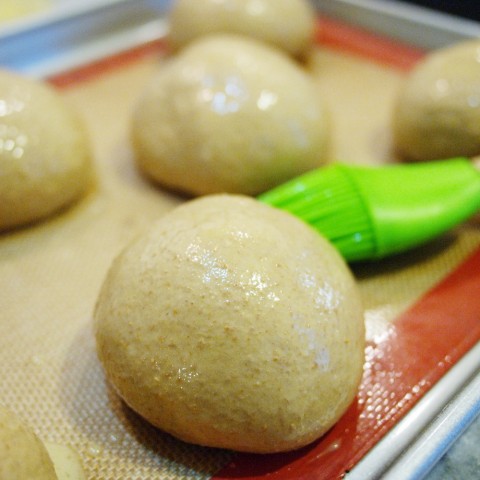 At the end of the second rise, turn the oven down to 400F. Remove the plastic wrap and brush the rolls lightly with the egg wash. Then bake for 20 minutes. The finished rolls should be slightly browned, and their upper crust should have a glossy sheen.
* If you don't have a stand mixer, you're going to want to mix your dough by hand, then knead it for 15-20 minutes.