For more than a month, I've been wanting to make this plum galette that David Lebovitz featured in one of his posts about the fortieth anniversary of Chez Panisse. And for more than a month, for one reason or another, the stars have not aligned. I didn't have time when I was in Los Angeles in August. Then fruit problems led to this onion tart, which I absolutely don't regret, but which is also not the pastry I was looking for. Then today … well today, I did finally make a galette. It wasn't quite plum — apple instead — but I think that I have satisfied my urge.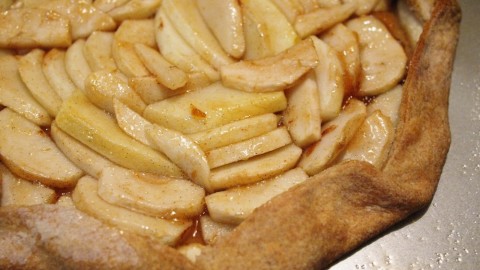 The thing with tarts and galettes over, say, pies, is that they're all about the fruit. Pie filling may be made of fruit, but it is the way that it is spiced and the consistency to which it is cooked that really makes it. An apple pie without cinnamon, cloves, mace, and ginger? Bland. And have you ever cut into one that was too dry? What a disappointment. You want pie filling to be gooey like a compote — a sort of gelatinous aether holding together bites of cooked fruit.
But not so with a fruit tart. An apple tart should be all about the apple. It is not cooked until gooey, but rather sliced thin and almost browned. And the gel that holds the apples together in this case should not be its own, but rather some good, complementary jam. Not too much. Just enough to keep things moist, to make things appealingly shiny, and to keep the fruit from falling out.
Aside from the fact that plums are at the end of their run,the main reason why I gave up my Chez Panisse dreams and went with apple is that I found what may be the perfect complementary jam. I've talked about my friend Linda's canning prowess here before. And if it needed confirmation, this jam is it. It is vanilla-pear. And it took about a second for me to decide that it would be excruciatingly good in a tart. It is pleasing but not overpowering, it has just a hint of caramel sweetness, and the vanilla sort of softens it out, giving it a velvety, creamy feel in your mouth.
Not all of you, obviously, can acquire something so perfect as this. But nonetheless, with any good jam — pear, apricot, maybe even blackberry — it is a project that should be well worth your time.
Crust:
1/2 cup Whole Wheat Flour
3/4 cup Unbleached AP Flour
1 stick Butter, cubed and chilled
1 tbsp Brown Sugar
1 Egg + 1 Egg Yolk + a tiny bit of Water, all beaten together
Salt
Filling:
6 Apples, peeled, cored, halved, and sliced thinly
1/4 cup Jam (any good one will do, as long as it is mild enough to let the apple shine through)
1 tbsp White Sugar
1/2 tsp Cinnamon
2 cups Acidulated Water (water with a little bit of lemon juice) to keep the apple slices from rusting)
A couple of hours ahead of time, make the crust. Combine the flour, sugar, and salt in a food processor and pulse briefly, just to mix. Add the cubed butter, and give it another three or four five-second pulses, until all the butter is combined, and the flour looks sort of sandy. Add the egg a little bit at a time, and mix until it just comes together as a dough. (this is going to take some judgment. You may not need all the liquid to achieve this.) Move your dough into a zip-lock baggy, form it into a disk, and refrigerate it until it sets up.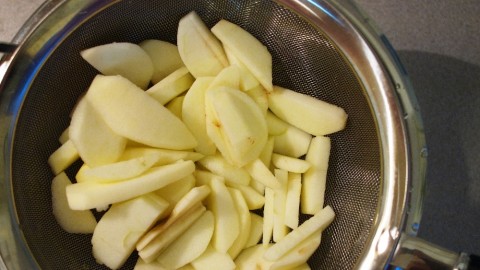 When the dough is ready, preheat your oven to 450F. Then cut the apples into neat slices, moving them immediately into the acidulated water to keep them from rusting. On a lightly floured counter or large cutting board, roll out your dough into a 14″ circle, trim to make it neat, and move it to a flat — as in edgeless — cookie sheet.
Heat half your jam in the microwave for about 30 seconds until it melts, and brush it onto the circle of crust. Sprinkle the crust with a little bit of cinnamon. Then drain the apple slices, and neatly arrange them in concentric circles (or however you think looks attractive) on the dough, leaving a vacant space about an inch wide all around the edge. Fold the crust into pleats over the edge of the apples, and sprinkle the formed galette with granulated sugar.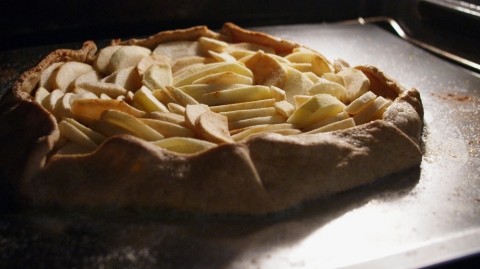 Bake at 450F for 20 minutes, then turn the oven down to 350F, and continue baking until the crust is brown and the apples are cooked (another 10 minutes or so). Remove the galette from the oven, melt the other half of the jam in the microwave, and carefully brush a generous layer all over the top of the fruit. Allow to set for about 10 minutes, then carefully slide it onto a serving dish.
It should feed 4-6.