Interestingly enough, today's experiment is equally at home with tea and jam, or with fried chicken and greens. This, I suppose, is a product of my peculiar relationship with biscuits. Or maybe more accurately, my biscuits' peculiar relationship with scones.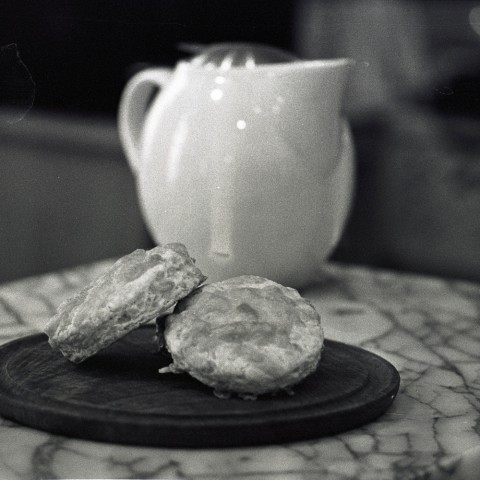 As you read through this recipe, the most perceptive of you (dear readers!) will likely notice that these cheesy biscuits pretty closely resemble a prior recipe, here — for lemon-rosemary scones. You'll notice that I've subbed out the heavy cream for yogurt with a bit of water, and I've subbed out the lemon zest for a considerable quantity of cheese. But all in all, this recipe carries just about the same procedures, and is just about as dead-simple to prepare.
I know — from doing my research — that I am not the only one who makes mere minor modifications to go from Southern fried to English tea. Most of the biscuit recipes I've seen look strikingly like scones in Halloween costumes. And, examining the scanty evidence I've been able to find online, it seems an awful lot like the American biscuit descends from the scone. And yet I — probably like a whole chorus of Southerners — insist that biscuits are different. Though I'd guess that difference has more to do with where one holds one's pinky than anything about the pastry itself.
That said, I differ from the Southerners on one key point: the yogurt. Traditional biscuits, I'm given to understand, are made with milk or buttermilk as the moistening agent. But as I've said here before, yogurt makes moister, more flavorful baked goods. And these biscuits are no exception to that rule. So do try it before you pass judgment on my wild and iconoclastic tastes.
One final note: you may notice that the images that go with this post look … slightly different. They were taken, in fact, as a test roll for a new film / developer combination I'm trying out. Please don't expect hand-developed film images to go with posts from here on out. And by the same token: please don't run away and never come back because these images are in black and white. The pictures — they're experimental. So do bear with me. And we'll return to full color very soon.
2 cups Unbleached AP Flour
1 1/2 cups Grated Cheddar Cheese (Yes, I'm lazy. I buy it grated.)
1 Stick of Butter, chilled and cubed
1 Egg
1/2 cup Yogurt
2 tsp Baking Powder
1 tsp Water
1/2 tsp Salt
Preheat your oven to 450F, and line a cookie sheet with parchment. To the work bowl of a food processor, add your flour, baking powder, and salt. Pulse once or twice to combine. Then add the cubed butter, and pulse in five-second bursts until there are no more chunks of butter and the mixture is the consistency of sand.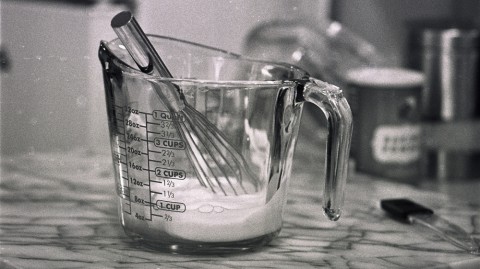 In a second bowl, whisk together the egg, yogurt, and water. Add it, along with one cup of the grated cheese, to the food processor, and pulse — again in short bursts — until the dough just barely comes together.
Turn the dough out onto a floured pastry board, and press it gently into a rectangle. Using a floured rolling pin, roll the dough out to an even thickness of about half an inch. Use a round cookie cutter (or the mouth of a glass) to cut two-inch disks, spacing them evenly on your cookie sheet. Then re-form the dough, re-roll, and cut again. In all, you should end up with about a dozen biscuits.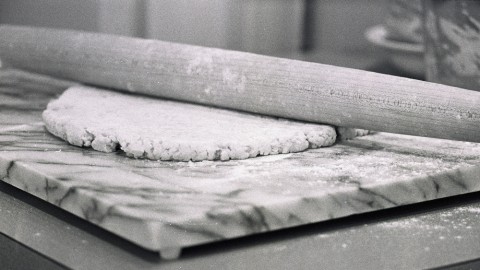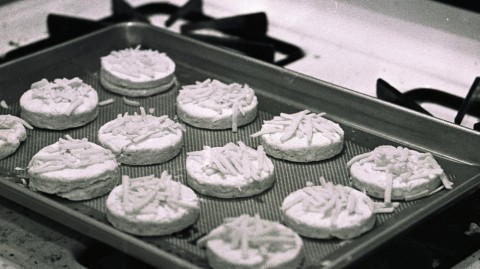 When the biscuits are cut, top them with the remainder of the grated cheese (a little on each one — you don't have to use the whole half cup). Bake for 20-25 minutes, until the cheese on top has melted and just started to burn. Then remove from the oven and serve hot — with fried chicken for dinner, or tomato jam for breakfast.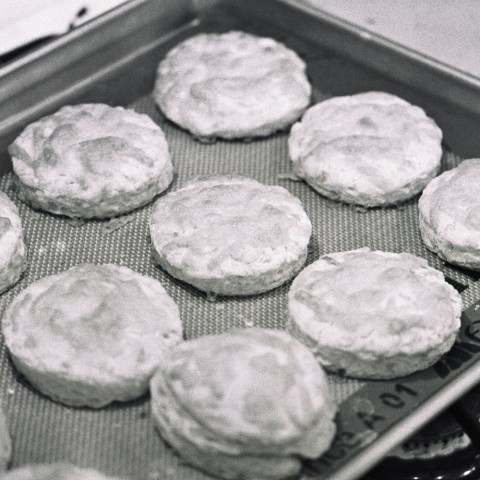 Optional: For a slightly different flavor, you may consider adding some chopped chives or scallions to the dough. Alternately, some fresh rosemary and oregano would likely be delicious, too.