Culinary comrades, fellow food fanatics who follow this blog, if you have not seen Big Night
— Stanley Tucci and Tony Shalhoub's 1996 ode to a failing Italian restaurant — you simply must. It is delicious.
Big Night is one of my all-time favorite films about food. Along with a precious few others — like Scorsese's The Age of Innocence
, of all things — it landed at a malleable moment in my life, at a time when my interests could have gone in a lot of different directions, and it nudged me toward the kitchen. Primo, Shalhoub's talented, unbending, self-righteous portrait of a brilliant chef, is exactly the kind of character I found fascinating in my teenage years. And the food — oh, the food.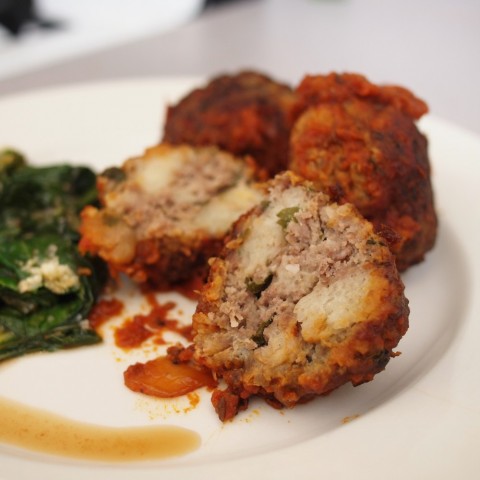 The food, of course, is why I am dredging this old chestnut out of its shell right now. Today's experiment, Italian-style meatballs in a red sauce, is a direct result of a thing I saw in Big Night. And though I don't remember the specifics of how it came about — it was more than a decade ago, now — I'd like to tell you that I went straight from the theater to the butcher, from the butcher to the piles and piles of cookbooks, from the cookbooks to the stove, and from the stove, straight to meatball heaven.
That's probably not what happened, now that I think about it. If for no other reason than that — at the time — I was a devoted vegetarian.
At any rate, even if I didn't make them that night, I've been making these meatballs for a lot of years. And the thing that inspired me to do it — the mouthwatering moment in Big Night — was the timpano. Cognate with the giant symphonic drum, it is a piece of pastry wrapped around pasta, meatballs, hard-boiled eggs, bits of cured ham, and pretty much any other tasty Italian thing you can think to bake in a pie. It has a beautiful dome shape; cooked properly, it cuts neatly into slices that each make up a meal; and it has a kind of perfection that elicits an emotional response. One eats it and sheds a tear.
A couple of times, I have actually made a timpano. I did one for some then-future in-laws, who came to visit Sarah and I when we were in college. I did one for a devoted friend who made the long trek out from Los Angeles to visit us in Indiana. I did one — I don't remember when else. But every time, it has been a smashing success.
The problem with the timpano, though, is that it's a two-day affair. Preparing the meatballs, two pasta sauces, the crust, and the eggs requires a big investment. And it is often one that precludes the other makings of a meal. Like vegetables. And dessert.
So at this point, I have more or less retired the timpano. It may come out of the closet one of these days — perhaps at a Big Night themed dinner party, or some such. But the meatballs, which are much more manageable outside of the giant pie, are still in my active rotation. They aren't something I would make every day. Even alone, they are a tiny bit time intensive. But as part of a weekend meal, they are an entirely reasonable thing to do. And like the timpano itself, they are always a smashing success.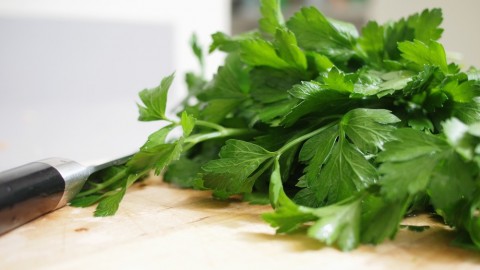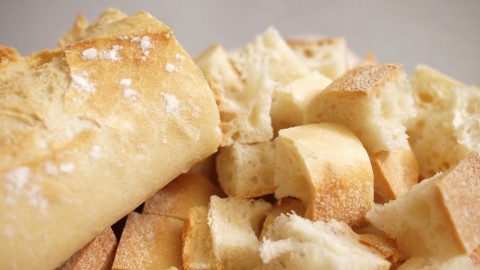 5 cups Homemade Tomato Sauce
2 lb. Ground Beef
1 lb. Ground Lamb (or veal)
1 lb. Ground Pork
4 cups Day-Old Bread, cut into small cubes
2 Eggs, lightly beaten
8 Cloves of Garlic, minced
1 Bunch of Flat-Leaf Parsley, stemmed and minced
1 tsp Dried Thyme
1 tsp Dried Oregano
1/4 cup Grated Parmesan (the good stuff!)
1/4 cup Grated Pecorino Romano
Olive Oil
Pepper
Salt
Preheat your oven to 400F, and line a large roasting pan with foil. In a saucepan over a low flame, heat the tomato sauce.
To a large bowl, add the three meats, herbs, and cheeses, the eggs, salt, pepper, and a generous measure (somewhere between a quarter and half a cup) of olive oil. Use your hands to mix it all together. Then soak the bread cubes in water, squeeze them out, and add them, too. Mix thoroughly.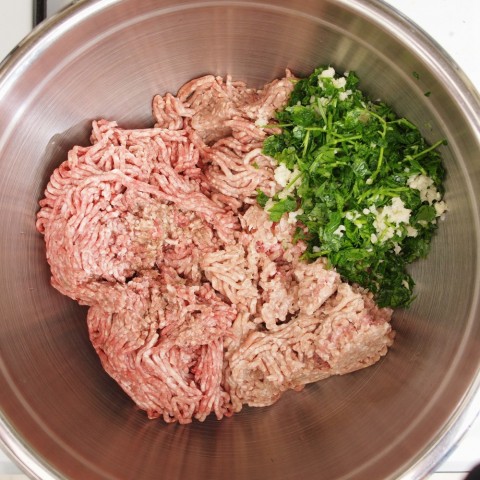 Using your hands, pat the mixture into rough spheres about 2 inches (5 centimeters) in diameter. They should be firm, but not pressed so tightly that they get tough when you cook them. You should end up with about two dozen in the end.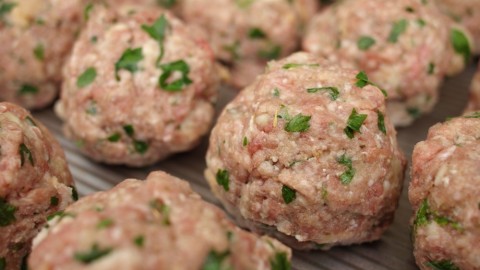 In a sauté pan over medium-high heat, brown the meatballs all over, using a spatula and a pair of tongs to roll them every two minutes or so until they are done. You'll probably need to do this in shifts. Don't crowd the pan, and be gentle with the meatballs or they will break.
When the meatballs are all browned, remove them to a lined roasting pan. Bake them for about twenty minutes. Then lower the temperature to 200F, cover the meatballs thoroughly in sauce, and allow them to bake for another 30 minutes.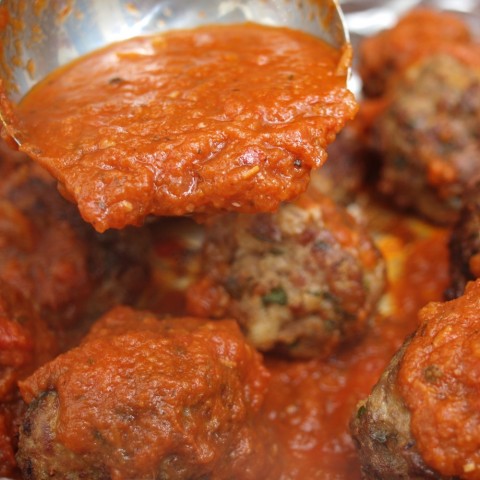 Serve hot, straight out of the oven, accompanied by a good crusty bread. Refrigerated, they should last a couple of days. And though I have not tried it myself, I imagine that they freeze well, in either their raw or cooked states.