There's something that's brilliantly, deceptively pedestrian about a quiche Lorraine. We tend to think of it as elegant, perhaps because its name is French, or perhaps because Julia Child famously made one, or perhaps because so many people — so much to my confusion — seem to find shortcrust pastry to be a challenge. But in the immortal words of The Simpsons: would a rose by any other name still smell as sweet?
Not, conclude Bart and Homer, if you called it Stench Blossom. Or Crap Weed.
Quiche Lorraine, framed slightly askew, is nothing more than a bacon and egg pie. It's a half-dozen scrambled eggs tossed with some pig bits and a handful of cheese to jazz it up. It's classic country breakfast. Or, served in a miniature cast iron pan, it's a heart-attack skillet from one of those chain twenty-four-hour pancake joints that you find off the Interstate.
Folks who cook them, of course, do their best to make these little pastries seem more rarified. They call the eggs custard, call the bacon lardons, insist on shredded gruyere, or some other kind of nose-in-the-air European dairy morsel. But all that amounts to little more than a costume. Quiche Lorraine is what it is. And what it is is comfort food.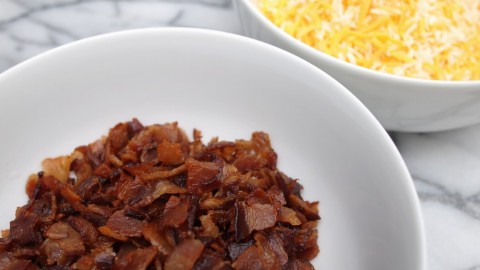 Now, I don't mean to say that as though it's a bad thing. If there's one thing I like better than elegant cuisine — and I'm sure that this is the case for many of you, too — it's comfort food. That first bite of fried chicken, or mac and cheese, or tuna noodle casserole is like climbing into a warm bath after an exhausting day. My mental muscles unravel as my senses revel in a moment of the most pleasant kind of nostalgia.
All the better — am I right? — that a quiche Lorraine offers all that, plus a dish that's appropriate to cut into delicate slivers and serve with brunch — or afternoon tea. All the better that it's perfectly appropriate chilled, for lunch, accompanied by a miniature salad Niçoise. All the better that it's just right for fancy breakfast, served with rosemary roasted fingerling potatoes.
Just because quiche Lorraine sometimes wears a tie to the table doesn't mean that it has to be intimidating. Just because it wears a blazer to brunch doesn't mean it isn't just as much at home in a t-shirt with a beer. In the age of ubiquitous refrigeration, in the age of food processors priced for every budget
, shortcrust pastry should scare no one. Whirl some flour and butter in a machine, refrigerate, have an hour's worth of patience — or maybe an hour and a half's — and you're three quarters of the way to quiche.
The rest — really — is scrambled eggs. The rest takes less than an hour and almost no effort to go from start to table. And the result is divinely diverse: equally appropriate for luncheon or lunch counter. Just right for ladies in purple hats who have dropped by to play bridge, or for fellows in trucker caps who've come to watch the game.
Long live the egalitarian quiche.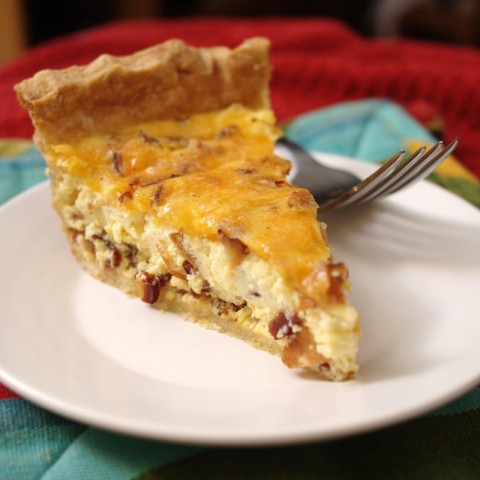 For the Crust:
1 cup Unbleached AP White Flour
1/4 cup Whole Wheat Flour
2 Eggs, beaten
1 Stick of Unsalted Butter, chilled and cut into cubes
1 tsp Salt
For the Filling:
6 Eggs
2 cups Whole Milk
1 1/2 cups Shredded Cheese (I'll admit it: I used packaged shredded cheddar)
1 cup Bacon, cut small and cooked crisp (1/2 pound is about right)
1/4 tsp Cayenne Pepper
Black Pepper
Salt
To make the crust: To the workbowl of a food processor, add the flour and salt, and pulse once to mix. Add the cubed butter, and pulse a couple of times, in five second intervals, until it is incorporated and the mixture is the texture of sand. Then add the eggs, and pulse a couple more times, until the whole thing just barely comes together as a dough.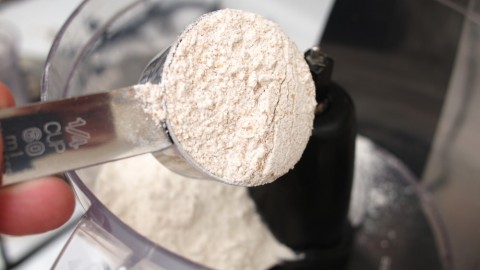 Remove the contents of the workbowl onto a piece of plastic wrap. Use the plastic to shape the dough into a puck, making sure not to work it too much, as you don't want it to develop too much gluten. Wrap, and chill in the refrigerator for at least a half hour.
At the end of that half hour, remove the dough from the refrigerator, and on a lightly floured board, roll it into a circle about an inch wider than your pie pan. Lay the rolled dough into the pie pan, pressing it into the corners so that it fits snugly, and use a fork to perforate the bottom. Trim the extra dough, leaving a centimeter or two hanging over. Crimp the edges according to your preferred method, and then refrigerate the prepared crust for at least another hour to help the gluten to relax. This will minimize crust shrinkage in the oven.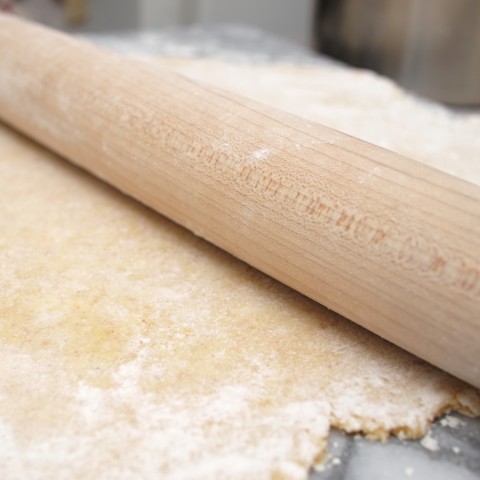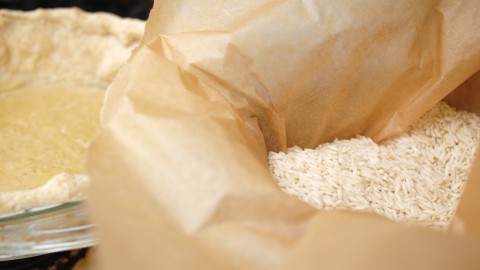 Preheat your oven to 400F. When the crust has chilled, line it with parchment paper and use either pie weights or beans (I actually prefer rice) to weigh down the bottom of the crust. Then blind bake it for 20 minutes (or until the edges of the crust have just started to turn golden). Remove the crust from the oven and set aside.
To make the filling: Lower the heat of your oven to 350F. Into a medium mixing bowl, add the eggs, milk, pepper, salt, and cayenne, and whisk briskly until the ingredients are thoroughly incorporated. Then whisk in the cooked bacon and about a cup of the shredded cheese.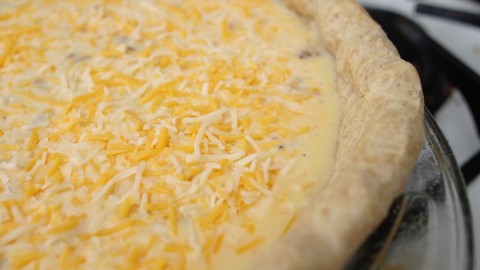 Pour the mixed filling into the cooled crust, making sure that the bacon and cheese are approximately evenly distributed throughout. Top with the extra half cup of cheese, and bake for 45 to 50 minutes, until the top is golden, and the filling has just the barest hint of a jiggle.
The wonderful part of quiche is that it's good hot or cold or reheated, for days and days after you first make it. Cook quiche, and you'll never go hungry again!