Alternately titled: This One Weird Trick Will Make Your Dinner Guests Think You Know About Football.
I had thought, this year, that I might post a recipe that would be appropriate for the big game, the pigskin classic, the Super Bowl. It is, after all, one of the great calendar customs of the United States, in which folks come together to mark the passing of the winter with symbolically complex entertainment, the company of friends and family, and the life-affirming (if somewhat unhealthy) consumption of many of our native foods. It's one of the great folk festivals, like the Palio in Siena, where the community as a whole bands temporarily into factions that compete against one another, but where that competition is ultimately about reaffirming our unity.
I explained all this to Sarah, and this is what she said: Clearly — you know nothing about football, or the Super Bowl. Not at all. So if you're going to do this, you had better ask the advice of the Internet.
I did. I asked social media (among other things, whether baked beans might be an appropriate Super Bowl food). And here is what folks said:
There were three votes for chili, two votes for Tex-Mex chile con queso, four votes for wings with various sauces (the most appealing of which being curry), and a bunch of agitation for a big sandwich or a six-foot sub. Sharyn, whose writing has appeared here on Twice Cooked before, told me that she and her partner do a most excellent vegan nacho platter that's always a hit. And a couple of people told me that their guests have enjoyed build-your-own baked potatoes.
There was a general consensus that the best Super Bowl food is finger food, because who wants to look down at their plate to get the next morsel when something interesting might happen on the TV at any moment? And though I prefaced my question by proclaiming no dip, several folks suggested that dip — especially of the seven-layer variety — is the most traditional Super Bowl food there is.
One friend told me that perhaps, just maybe, the Super Bowl wasn't really about carefully considered cuisine at all. While another suggested that the most interesting course might be to do something themed.
Themed, I thought, sounds like a good plan. And so that's what I did. Ignoring the interdiction about careful consideration, I made a list of all the football terminology I knew — it was fairly short. I picked a couple of keywords — pigskin and beer. And I went to work.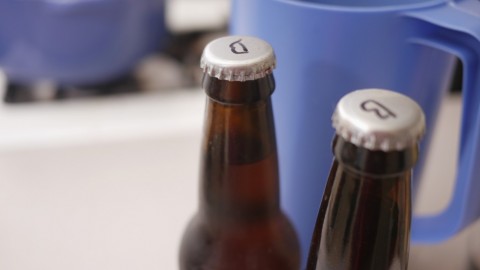 I acquired for this project a skin-on, bone-in pork shoulder, which is just about the greatest cut of pig there is. I raided my stores of homebrew beer for some braising liquid that I thought would complement it. I picked a spice combination — cumin, chili powder, and oregano — that seemed to me to have a particularly American flavor profile. And I set the whole thing up to stew, with the intention of turning it into something like pulled pork.
So here, friends, is fair warning: beer braised pork shoulder is not a finger food, and it is not chili (though they share some features), and it is not a dip. Beer braised pork shoulder will require that you look down at your plate or bowl to pick up the next morsel as you eat, it is not well-suited to the addition of dipping sauces, and if what you want is a big sandwich — you may be disappointed.
It is, however, a dish that is thematically appropriate to the big game. With its porky dermis, it pays homage to the game's eponymous central object — the ball itself. And with the beer, it pays homage to the single most important ritual object of the fans.
You'll want to eat this recipe over rice. And you may want to cook up an accompanying batch of cheesy biscuits. But most importantly, you'll want to share it with friends. Because if not community, what's the big game about?
And besides: it makes a lot of meat.
3.5 lb Bone-In Pork Shoulder (skin on if you can find it)
2 pints Beer (I used a Belgian-style farmhouse ale that I made a couple of years ago)
1 Large Onion, Sliced
10 Cloves of Garlic, Minced
1.5 tbsp Ground Cumin
1.5 tbsp Chili Powder
1.5 tbsp Dried Oregano
1 tsp Dried Thyme
2 Bay Leaves
Olive Oil
Pepper
Salt
The night before: In a food processor, blend together half of the garlic, the chili powder, cumin, and oregano, along with about fifty grinds of pepper, a scant teaspoon of salt, and enough olive oil to turn it into a paste. Spread the mixture all over the pork shoulder, cover it, and refrigerate.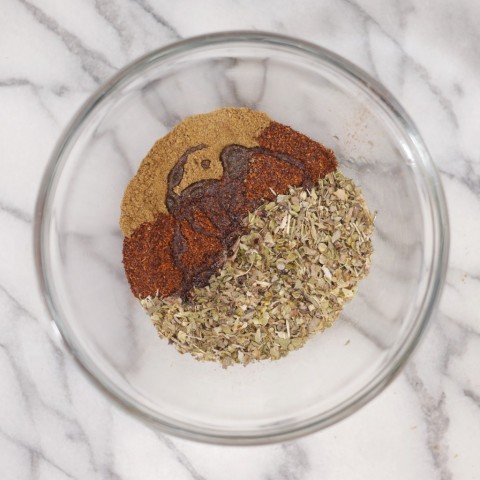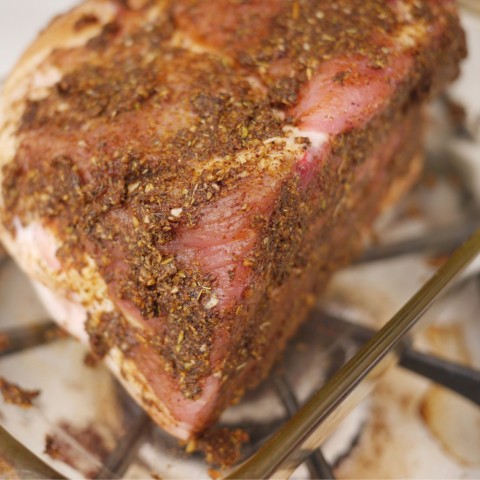 The day of: Preheat your oven to 275F. In a dutch oven over a medium-high flame, brown the pork shoulder on all sides. Because of the spice paste, this will cause some smoke. So you'll want to open a window, or risk setting off your smoke detectors.
When the pork shoulder is browned, remove it to a plate and add the onions to the dutch oven. Cook for about three minutes — until they begin to soften — then add the rest of the garlic, the thyme, and the bay leaves, and cook for five minutes more.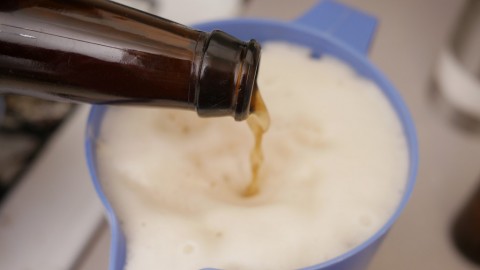 Add about a third of the beer, and scrape the bottom of the dutch oven to deglaze it. Then add the rest of the beer, and as soon as it comes to a simmer, return the pork shoulder to the dutch oven, cover it, and place it in the oven for three-and-a-half to four hours — until the meat is fork tender all the way through.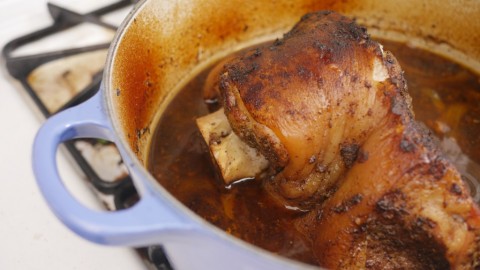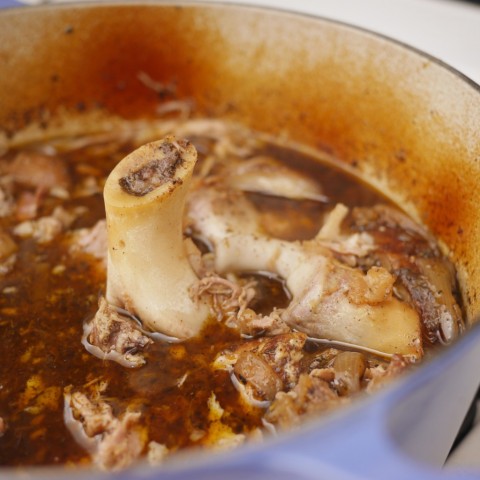 When the pork is cooked, use two forks to pull it apart, skin and all, into the braising liquid. Then serve immediately — as you would a stew — over rice.
You never know. For something this good, your Super Bowl guests might even get up off the couch to help themselves.