Over the weekend, just in time for the start of Hanukkah, I posted parts one and two of the Twice Cooked Holiday Gift Guide. I prostrated myself most shamelessly before the greedy god of commerce, encouraging you to to click through this site to Amazon.com
, and in the process support us, even as you shop for goodies for the gourmets and gourmands in your life.
Today, I offer part Three — the do-gooder guide.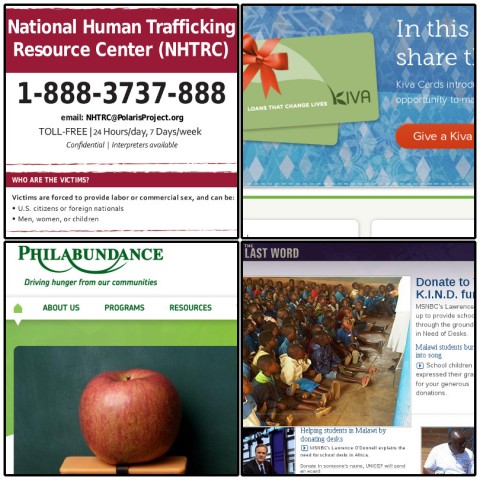 This installment of our gift guide, you'll notice, is a little bit different from the first two. I'm still beating the drum for you to spend, rather than make, to demonstrate your love this holiday season. But rather than spending at the online equivalent of a big-box outlet, on baubles or books that will end up in a drawer (or on a shelf) by March, I'm encouraging you to get some perspective, and give the gift of giving instead.
Listed here are four causes — five organizations — that do important work, that need your help, and that offer some compelling options for how to make a charitable donation a viable gift to someone in your life. Much as I have encouraged you all (dear readers!) to buy stuff as gifts, this is better. This is, for the most part, what I am doing this holiday season. And I know — know! — that in each of your lives, there are potential gift recipients who would appreciate this, as well.
Much to my shame, I did not get around to posting these suggestions until a couple of days into Hanukkah. But just because it's night number three doesn't mean it's too late. These organizations offer both hard-copy and email notifications to honorees. So if you donate today, there is no reason that your gift recipient won't know it by candle time tonight.
As for the rest of you — well — your holidays aren't for two weeks, yet. Buy now! There's still plenty of time.
Part III: Gifts for Good Causes
Again: you can find the other two installments of the Twice Cooked Holiday Gift Guide here and here.  But this third installment is really the best place to find gifts.